Brazil Real Weakens as Traders Weigh GDP Surprise, Oil Gain
by
Disappointing report shows economic activity contracted 0.09%

Meanwhile, economists are more optimistic about 2017 outlook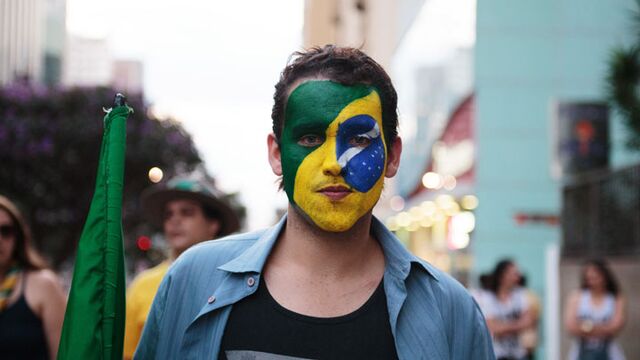 Brazil's real dropped as a rebound in commodities prices failed to offset a gloomy economic report showing efforts to kickstart growth are falling short.
The real lost 0.3 percent to 3.2730 per dollar Monday in Sao Paulo, missing out on a commodities-driven rally in emerging-market currencies after the central bank's economic activity index, a proxy for gross domestic product, declined 0.09 percent in July. That disappointed economists surveyed by Bloomberg who had forecast a 0.2 percent expansion.
Brazilian assets, which have led global gains this year, have retreated in recent days on concern new President Michel Temer will struggle to make good on pledges to pull Latin America's biggest economy out of its worst recession in a century. The president, who took over on Aug. 31 after Dilma Rousseff was removed from office, has also vowed to to trim a budget deficit and make Brazil a more attractive destination for investment.
"We expect the economy to continue to face headwinds from exigent financing conditions, a weak labor market, high levels of household indebtedness, weak external demand, and still-contained consumer and business confidence," Alberto Ramos, the chief Latin America economist at Goldman Sachs Group Inc., wrote in a note to clients.
While the most recent economic data came in worse than anticipated, economists are growing more optimistic about 2017's growth outlook. Latin America's largest economy will grow 1.36 percent next year, according to a weekly central bank survey of analysts. That's up from a 1.3 percent forecast the prior week and 1 percent in July. Estimates had fallen to as low as 0.2 percent in April, in the weeks preceding Rousseff's suspension from office.
Investors have increased bearish bets against the real to $17 billion. While that's less than half the peak they reached in May of last year, it's up from $13.9 billion earlier this month. The real will weaken 2.6 percent by year-end and 4.6 percent by the middle of 2017, according to the median estimate of analysts surveyed by Bloomberg.
Oil rose 0.4 percent in New York to $43.19 a barrel. The Bloomberg Commodity Index advanced for a third day.
Swap rates on the contract maturing in January 2018, a gauge of expectations for Brazil's interest rates, were unchanged at 12.54 percent.
Before it's here, it's on the Bloomberg Terminal.
LEARN MORE