Alabama Selling Bonds Backed by Deepwater Horizon Settlement
By
State's getting money from $1 billion settlement up front

Bond proceeds also would fund Medicaid and transportation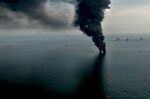 The 2010 Deepwater Horizon oil-rig disaster, featured in a major-motion picture opening next week, may soon help Alabama rebuild its reserves, pay Medicaid expenses and fund road projects.
Alabama plans to use annual payments from a $1 billion settlement with U.K. oil producer BP Plc to back bonds issued within the next two months, said Bill Newton, the state's acting director of finance, who also sits on the Alabama Economic Settlement Authority, which was created to handle the debt issue. The state will receive the payments under the settlement for 18 years.
State lawmakers earlier this month approved the bond sale and authorized creation of the six-member authority, which had its first meeting Monday.
Under the legislation about $400 million of the bond proceeds will go to repay money the state loaned itself from reserve funds in prior years to balance budgets, with the rest going to fund Medicaid expenses and road work in the southern part of the state. The amount issued will depend on interest rates when the debt is sold.
"We started the process to issue the bonds within the next two months," said Newton. "We'll see what the market brings."
The April 2010 oil spill leaked millions of barrels of oil into the Gulf of Mexico over three months when an an oil rig exploded killing 11 workers and injuring 17. BP settled with five states with ecological and economic damages earlier this year. The movie "Deepwater Horizon" starring Mark Wahlberg, Kate Hudson and Kurt Russell recounting the events of the disaster is scheduled to open this month.