Partisan Divide, Economic Pessimism Drive U.S. Voter Attitudes
By
Trump, Clinton voters see other candidate 'fooling' supporters

CBS survey of 13 swing states shows candidates neck-and-neck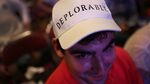 Partisan divides are running hot in America's battleground states as many voters remain unhappy with the economy, according to a CBS News poll.
Presidential candidates Donald Trump and Hillary Clinton are neck-and-neck with 42 percent support in the combined poll of 13 states, which includes North Carolina, Pennsylvania, Arizona, Colorado, Florida, Georgia, Iowa, Michigan, New Hampshire, Nevada, Ohio, Virginia and Wisconsin, CBS News said in a statement on Sunday.
The survey of about 4,200 registered voters was conducted by YouGov Sept. 14-16. The margin of error was plus or minus 1.9 percent. Clinton held a two-point lead as recently as two weeks ago.
Some 86 percent of Democrats in the battleground states say that America will be "damaged beyond repair" if Trump wins the election, while 83 percent of Republicans say the country will be irreparably harmed should Clinton take the White House.
Asked how they feel about one another, 68 percent of Clinton voters think Trump voters are racially insensitive, while 73 percent of Trump voters think Clinton voters are "looking for special privileges." About 76 percent of Clinton voters think Trump is fooling those voting for him, while 83 percent of Trump supporters believe Clinton is hoodwinking her voters.
More than half of respondents said the U.S. economy was in bad shape, and "many voters do not feel the gains are going to them, specifically, nor that opportunity is available for all," CBS News said.
While the unemployment rate has dropped to 4.9 percent from 10 percent in 2009 and payrolls have been expanding since 2010, income inequality has widened in recent decades. Some studies show that income mobility -- the ability to move across earnings brackets -- is also worsening.
Before it's here, it's on the Bloomberg Terminal.
LEARN MORE