New York Faces High Security as Authorities Search for Bombing Suspect
By , , and
UN General Assembly expected to begin as usual Monday

1,000 more police blanket NYC, videos of Chelsea street sought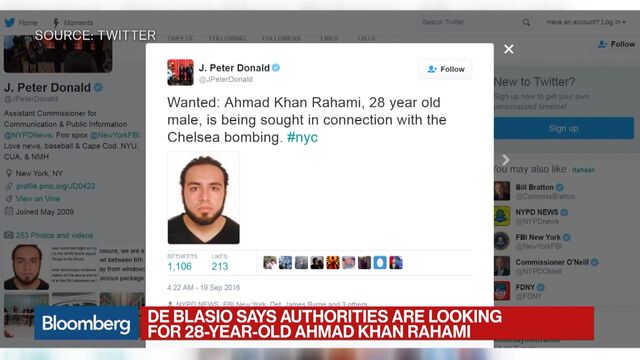 Bomb-sniffing dogs and transportation headaches greeted New Yorkers and visiting dignitaries Monday as the city searched for those responsible for planting the Chelsea dumpster bomb that injured 29 people and a suspicious package found overnight in New Jersey.
The New York Police Department said on Twitter it is looking for a 28-year-old man identified as Ahmad Khan Rahami for questioning in connection with the explosion in New York City. They also posted a photo. The Associated Press reported that he is a naturalized citizen from Afghanistan.

Amid heightened security, another device was found at a train station in Elizabeth, New Jersey, Mayor Chris Bollwage said, and the FBI Monday morning found a direct link between it and the New York City bombing, according to a New York law enforcement source. The device detonated while it was being examined with a robot, AP reported. Several people were taken into custody overnight for questioning, the AP said.
An increase of 1,000 New York state police officers and state troopers, more checks at subway stations and police presence at major crossroads are planned. The explosion Saturday night was on West 23rd Street and not near a main hub like Wall Street or Times Square, but the response, coinciding with the start of the United Nations General Assembly, will be felt throughout the city.

"You will see a very substantial NYPD presence this week, bigger than ever," Mayor Bill De Blasio said during a news conference at police headquarters Sunday. "We would normally have an expanded presence for the General Assembly. You will see an even stronger presence now."
Transit Impact
Commuters should "plan for delays," NJ Transit said on Twitter, as it announced the resumption of regular service. New York City Transit had already warned before the blast that there may be "severe" delays on bus lines in and out of Manhattan due to UN security zones. Public transport officials urged commuters to allow for extra travel time.
Amtrak's Northeast corridor service will operate a "modified schedule" Monday after trains were stopped Sunday evening.
NJ Transit said it resumed regular service at 5:30 a.m. with "delays."
PATH trains operating normally.
Metro-North and Long Island Rail Road were reporting normal service.
The New York subway is also reporting normal service
All bridges and tunnels into Manhattan are operating with delays


The city's new police commissioner, James O'Neill, said commuters would encounter more bag checks and canines in the transit system.
The Metropolitan Transportation Authority, the agency that runs New York's transit systems along with the Long Island Rail Road and Metro-North commuter train lines, said its systems and stations had no structural damage from the blast.
Parts of Chelsea, on the west side of Manhattan, were cordoned off and some residents had to show a utility bill to get back into their buildings.
Terror Scare
While silent on the New York bombing, Islamic State claimed responsibility for a stabbing in a Minnesota shopping mall Saturday that injured nine before the assailant was killed by an off-duty police officer. The confluence of attacks put terror back on the front burner for the presidential campaign, starting when Republican Donald Trump on Saturday night decried the "bombing" hours before officials confirmed an explosive device had been found.
The bomb, which went off on West 23rd street between Sixth and Seventh avenues around 8:30 p.m., sprayed shrapnel on bystanders and caused serious property damage. The explosive was similar in design to a second undetonated device found on 27th Street, and the Federal Bureau of Investigation is still examining them, New York Governor Andrew Cuomo said.

The undetonated device was described as a pressure cooker with wires sticking out of it and a mobile phone attached. A pipe bomb that exploded in Seaside, New Jersey, earlier Saturday, forcing the cancellation of a running race, appeared to be of a different design, Cuomo said. Evidence from all three devices is being taken to the FBI laboratory in Quantico, Virginia, he said.
While there's no evidence linking the New York explosion to an international terrorist organization, any bombing in the city is "generically a terrorist activity" and will be prosecuted as such, Cuomo said.
Video Sought
The last time New York faced a terror attack -- the May 1, 2010, attempted car bombing in Times Square -- it took police two days to arrest Faisal Shahzad, a 30-year-old Pakistan-born resident of Bridgeport, Connecticut, who had become a U.S. citizen. Key to his arrest had been surveillance cameras that recorded his vehicle as he parked it at a curb near Broadway theaters.
That event, also on a Saturday night, put New York City Transit on high alert but didn't disrupt a UN conference on nuclear non-proliferation three days later.
"We are the most protected city in the world," de Blasio said on Twitter. "You will see a very substantial NYPD presence today and this week."