Merkel's Party Suffers Worst Berlin Loss of Postwar Era
By and
Voters punish two biggest German parties in capital city vote

Anti-immigration AfD set to enter its 10th regional assembly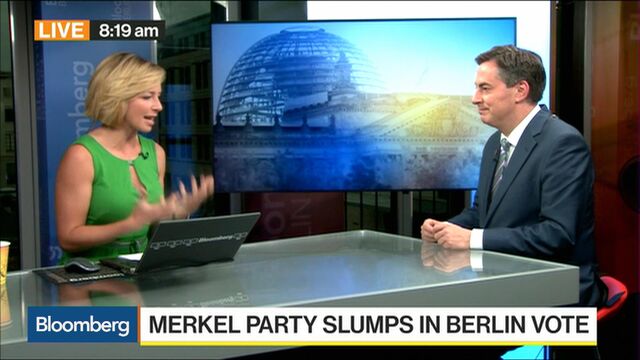 Chancellor Angela Merkel's party was dealt another blow in a regional election, posting its worst result in Berlin since the end of World War II as the anti-immigration Alternative for Germany extended its challenge to the political establishment by siphoning off voters.
The Social Democrats, Merkel's junior coalition partner in the national government, won the election for the capital's state assembly and the chancellor's Christian Democratic Union finished second. Yet their combined voter share declined by about a quarter, leaving the "grand coalition" of the two biggest parties without a majority to run Germany's biggest city. Alternative for Germany, or AfD, took about 14 percent, putting it just behind the resurgent anti-capitalist Left party and the Greens.
Electoral successes by the AfD in a string of state votes are roiling politics in Europe's biggest economy after last year's record influx of asylum seekers, which has dragged down poll ratings for Merkel and her party. After finishing third behind the AfD in a state vote two weeks ago, the CDU is now poised to drop out of the city government in Berlin. The chancellor will address the result at a news conference on Monday afternoon.
''They're giving simple answers to very complex questions,'' David McAllister, a CDU board member, said of the AfD in a Bloomberg TV interview on Monday. "They're a single-issue party" focused on the refugee crisis, said McAllister, the former Lower Saxony prime minister.
With state elections done for the year, Merkel's next task is to halt coalition strife over her rejection of a cap on migration, a demand pushed by the AfD but also by Merkel's Bavarian party allies. Pressure to settle the dispute is likely to grow ahead of a CDU convention in December that's meant to set the party's course for national elections in a year's time.
Merkel's Mantra
Faced with a persistent backlash against her refugee policy, Merkel backed off her catchphrase of "We'll make it," which she's used repeatedly over the past year to tell Germans the country is strong enough to deal with the influx.
"Sometimes I do believe that this sentence takes on exaggerated importance, that people read too much into it -- to such a degree that I hardly want to repeat it anymore," Merkel was quoted as saying in an interview with WirtschaftsWoche magazine. "Some people even take it as a provocation."
Julia Kloeckner, a deputy CDU leader who has criticized Merkel in the past, said that "perhaps the communication strategy has lagged to some extent."
"In a number of cases a clear word from the chancellor would be a good thing, which she is also planning to do," Kloeckner told reporters before a party leadership meeting in Berlin on Monday to review the election defeat.
A majority of the German public backs setting an upper limit of 200,000 refugees per year, with 63 percent saying they favor such a cap, according to a poll published in the Bild newspaper on Monday.
Established Parties
With its showing in the city-state of Berlin, the AfD has now won seats in 10 of Germany's 16 state parliaments since 2014.
"The AfD has arrived in the big cities" and the result in the capital is a "shining spotlight" for the whole country, George Pazderski, the party's mayoral candidate, told reporters. "Once again, we managed to get many previous non-voters to the polls."
The Social Democrats won in Berlin with just under 22 percent of the vote, while the CDU had less than 18 percent -- with each party losing about 5 percentage points of support. Mayor Michael Mueller will extend his party's 15-year-old rule in Germany's biggest city, probably together with the Left and the Greens.
The Left, which traces its roots partly to the former East German communists, was the winner among established parties, rising about four percentage points to almost 16 percent to take third place. The pro-business Free Democrats took 6.7 percent, returning to Berlin's city council after a five-year absence.
The electoral losses have escalated the pressure on Merkel to change course as she weighs running for a fourth term next year. The sharpest critic within her ruling coalition is Bavaria's ruling Christian Social Union, which has contested national elections with the CDU since the end of World War II. CSU leader Horst Seehofer told Der Spiegel magazine that his party is making an annual migration cap a condition for backing Merkel as joint chancellor candidate.