China Expected to Keep Its Deep Pockets Open to Boost Its Economy
Bloomberg News
Economists forecast fiscal deficit will surpass budget target

True spending power is seen more than double the budget level
China is seen keeping its deep pockets open in the second half and through 2017, despite having front-loaded spending earlier this year, as fiscal policy takes over from broad monetary easing as the major prop to growth.
The central government's fiscal deficit will surpass the target of 3 percent of gross domestic product set for 2016, according to economists surveyed by Bloomberg News. The broader shortfall that wraps in revenues from land sales, policy banks and other channels will also sink deeper into the red.
Here's a snapshot of what the survey of 18 economists conducted Sept. 9 to 13 shows.
17 expect this year's budget deficit will be deeper than the government forecast, with nine forecasting 3.6 to 4 percent and four projecting above 4 percent
16 expect the broader augmented fiscal deficit will be 10 percent of GDP or more
16 expect a higher fiscal deficit next year too, with nine forecasting 3.5 to 3.9 percent, 6 seeing 3.1 to 3.4 percent, and one expecting 4 to 4.5 percent of GDP


The fiscal tap is seen remaining well and truly open, in part to compensate for an on-hold monetary stance as policy makers shift from all out stimulus to reigning in asset bubbles. Better-than-expected lending and money supply data for August show the economy has bottomed in its "L-shaped" recovery, a central bank newspaper said in a front-page commentary on Monday.
"The Chinese authorities have become more cautious with regard to monetary policy, given the prevailing issues around capital flows and exchange rate uncertainty," said Arjen van Dijkhuizen, senior economist at ABN Amro Bank NV in Amsterdam. "The shift in focus from monetary to fiscal stimulus is in line with the policy recommendations of G20, which China is chairing this year."
The latest budget numbers set the pattern: Fiscal expenditure jumped 10.3 percent in August from a year earlier, while revenue rose just 1.7 percent. The economy has stabilized on the back of such support, with factory output, investment and retail sales all exceeding economist estimates last month.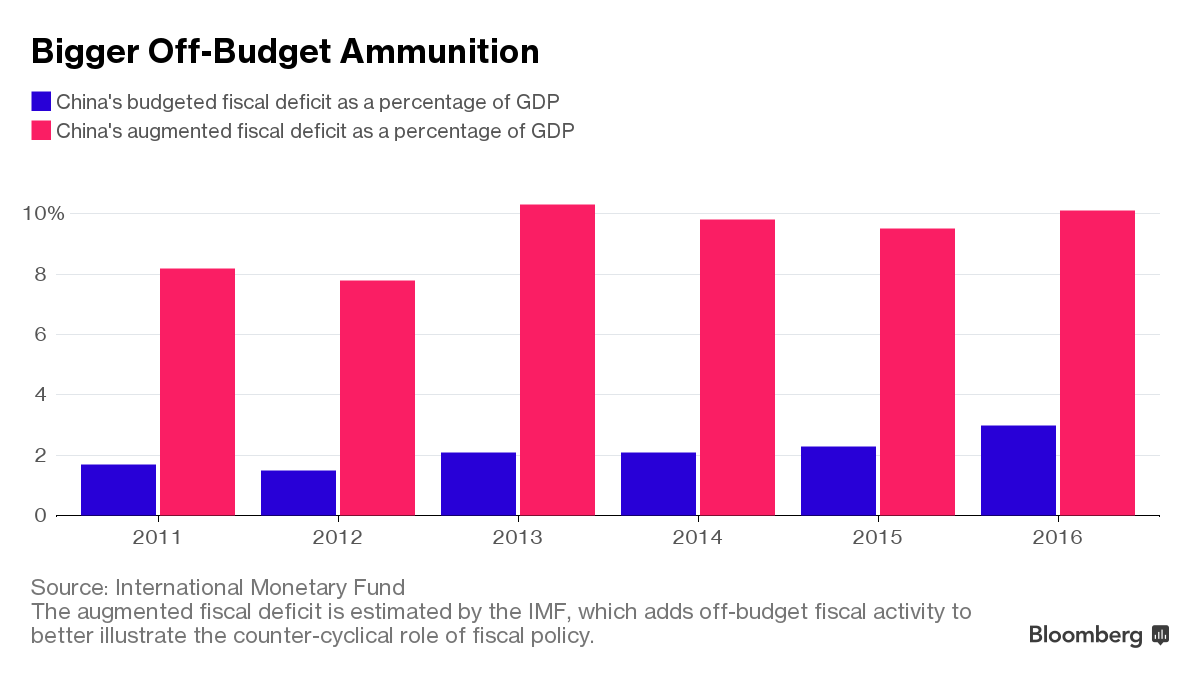 China's government traditionally accumulates revenue early in the year, then splurges late in the year. In 2016, it has already spent 594 billion yuan more than it reaped in the first eight months of this year, according to Bloomberg calculations.
Yet the official central budget is just the tip of the iceberg. The International Monetary Fund estimates China's augmented fiscal deficit at 10.1 percent of GDP this year. That stealth ammunition includes money channeled to its policy lenders, who have amassed at least 2 trillion yuan (almost $300 billion) in new financing for lending this year.
For a look at the role of policy banks in this year's stimulus, click here
The economy is also getting a boost from land sales as the property boom helps local authorities' fund infrastructure projects. They're also issuing bonds to repay costlier bank credit and finance new expenditure.
That support will also come with a cost.
"The expansionary fiscal policy will be increasingly unsustainable over the medium term as the government's spending ability will face constraints from sluggish revenue growth and a high level of debt," Tong Yiling, an analyst at BMI Research, wrote in a report last week. "Beijing's continued backing of infrastructure projects has the potential to stimulate demand for steel, cement and other construction materials, which would discourage producers from cutting capacity."
To be sure, some economists expect some moderation. Zhu Haibin, chief China economist at JPMorgan Chase & Co. in Hong Kong, expects fiscal support to be "slightly less forceful" in the second half of the year. The hope is there'll be less off-budget and opaque stimulus, and an expansion of the official deficit, which is more transparent and subject to scrutiny.
"To make fiscal policy more sustainable, China needs to gradually reduce the augmented fiscal deficit while increasing the budgeted deficit," Zhu said. "That's our forecast, and that's also what we hope the nation will do."
— With assistance by Xiaoqing Pi, and Cynthia Li
Before it's here, it's on the Bloomberg Terminal.
LEARN MORE