BNY Mellon CEO: Bank Embraced Criticism From Activist Investors
by
Cost-cutting program has improved profitability, CEO says

U.S. Federal Reserve should raise benchmark rates soon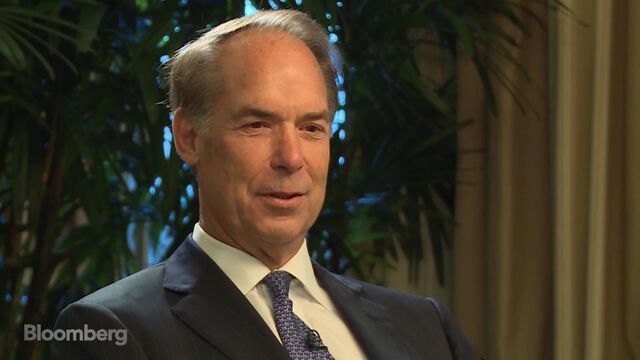 Bank of New York Mellon Corp.'s cost-cutting program has been effective and activist investors are appreciating measures taken to improve profitability, according to Chief Executive Officer Gerald Hassell.
"The active investors have now seen those improvements pull through our earnings, and our stock price has been reflecting it," Hassell said in an interview with Bloomberg Television's Haslinda Amin in Singapore on Saturday. "The trick is to embrace the criticism, adopt a program to really improve your company structurally and sustainably and show your investors that you can do it."
Under pressure from activist investors, the company with $29.5 trillion under custody and $1.66 trillion under management has been trimming expenses to maintain profit in an environment in which revenues declined on a year-over-year basis in the second quarter. Hassell sold the bank's headquarters at 1 Wall Street and reduced the real estate his employees occupy. He also streamlined technology operations.
Trian Fund Management, the activist investment firm founded in 2005 and headed by Nelson Peltz, owns about 3 percent of BNY Mellon and its co-founder Ed Garden sits on the board of directors. Trian built its stake in the custody bank in 2014, seeing potential for improvement at a company that had lagged rivals in key measures of profitability.
Targets Exceeded
The bank has met or exceeded targets set about in its program to improve profitability and the "business improvement process" will go on, Hassell said. When reporting second-quarter results in July, BNY Mellon said a decrease in non-interest expenses reflected lower costs in almost all categories and that it expected expenses to be flat to down for the whole year.
Shares of BNY Mellon, which have doubled since June 2012, lost 1.9 percent in New York on Friday. Since the beginning of the year they are down 2.8 percent, which compares to a 1.7 percent decline in a U.S. Standard & Poor's 500 Index subindex of custody banks and asset managers. Low rates have depressed earnings at banks by reducing returns on investments and by forcing banks to waive fees on money-market funds.
Hassell said he expects the U.S. Federal Reserve to raise rates in December at the earliest, but an earlier move would be better for global growth.
"I think low rates for this long are detrimental to economic growth", the chief executive said. "It's killing the savers around the world. Pension funds can't get the returns that they are looking for. There is no spread in the interest rates for people to make money. I think long term it is very, very problematic. So we would love to see not only the Fed but other central banks around the world relook at monetary policy."
Custody banks, such as BNY Mellon, Northern Trust Corp. and State Street Corp., keep records, track performance and lend securities for institutional investors. The banks also manage money for individuals and institutions.
Before it's here, it's on the Bloomberg Terminal.
LEARN MORE