Billionaire Razon Plans Casino Amid Duterte's Gambling Crackdown
By , , and
Bloomberry plans $418m resort in northern part of metro Manila

Better relations with China luring visitors: Enrique Razon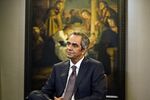 Philippine casino mogul Enrique Razon is pushing ahead with plans to build a 20 billion peso ($418 million) resort in Manila, undeterred by President Rodrigo Duterte's crackdown on gambling.
The chairman and founder of Bloomberry Resorts Corp. said construction of the company's second casino, in Quezon City in the northern part of metropolitan Manila, may start mid-next year and could be finished in 2019. Duterte's campaign is focused on electronic gaming parlors that have been loosely regulated and could actually help companies like Bloomberry, Razon said in an interview in Manila on Friday.
"I think cracking down on this, looking at it from our perspective, helps the licensed casinos," Razon said. Bloomberry's Solaire Resort and Casino on Manila Bay is operating at "full capacity" and there's been an increase in visitors from China since Duterte was elected in May as the new president seeks to improve relations between the two countries, he said.
Manila is aspiring to become the next Asian casino hub as high-stakes Chinese gamblers increasingly abandon Macau amid their government's crackdown on corruption. Chinese and South Koreans are the two biggest groups of foreign visitors at Solaire, and Duterte's plans to upgrade the airport and open a new toll road to the area where Solaire is should be good for business, the billionaire said.
Tourism Bet
"Razon is making a bet that President Duterte will deliver on his promises on infrastructure," said Jonathan Ravelas, chief market strategist at BDO Unibank Inc. in Manila. "Tourism has far more to go if only we have the right infrastructure."
Tourist arrivals rose 14 percent to 2.98 million in the first six months of 2016 from a year earlier, with South Korea, U.S. and China the three largest sources, government data show.
Bloomberry's gross gaming revenues climbed 17 percent in the first half to a record from a year earlier, while net income swung to a profit from a loss. The company's share price surged 52 percent this year through July 11 before declining 23 percent as Philippine stocks retreated amid high valuations and a broader emerging-market selloff.
Bloomberry shares closed up 5.5 percent on Monday, compared with a 0.3 percent advance in the Philippine Stock Exchange Index. Other local casino companies also rallied, with Melco Crown Philippines Resorts Co. up 2.4 percent and Travellers International Hotel Group Inc. rising 1.2 percent. Total gaming revenue in the nation increased 24 percent in the first half of 2016 from a year earlier, according to data from the industry regulator.
"The prospects for the gaming industry are improving," said Richard Laneda, an analyst at COL Financial Group Inc. in Manila. "The improvement in Chinese traffic is driving sentiment, for it accounts for 30 percent to 40 percent of the VIP market."
New Casinos
Razon is opting to expand domestically after dropping a bid for a gaming license in Cyprus and as he pulls out of a casino investment in South Korea. Local volumes have grown "quite strongly" and this trend should continue due to the attractiveness of the local economy and rising tourist numbers, he said. Quezon City has the biggest population of the 17 jurisdictions that make up metro Manila.
"This expansion will give Razon two properties that he can position for specific markets," said Rommel Rodrigo, a gaming analyst at Maybank ATR Kim Eng in Manila. "Solaire will probably focus on foreigners and higher-end individuals, while this expansion could be more for locals."
The gambling tycoon, who has a net worth of $3 billion, according to the Bloomberg Billionaires Index, banned 18 Chinese gamblers from Solaire in June over their involvement in a $81 million cyber-heist from Bangladesh's central bank. The audacious theft put the spotlight on the Southeast Asian nation after it was revealed the money had been routed through a Philippines' bank and then to local casinos.
Duterte, who took office June 30, has vowed to "destroy" online gambling. The campaign has already harmed Roberto Ongpin and his company PhilWeb Corp., a gaming technology provider that saw its shares plummet after it lost a contract to supply the industry regulator and Duterte said Ongpin was among businessmen that have an undue influence on the government.
Razon's planned resort will also include shops, a convention center and a hotel. He joins other investors building new casinos in the Philippines, including Universal Entertainment Corp. Chairman Kazuo Okada, who will open a resort in Manila in November, and Andrew Tan and Lim Kok Thay, Philippine and Malaysian billionaires, who are also building a casino in the city.