Aubrey McClendon Wine Collection Brings $8.44 Million at Auction
by
Late shale pioneer's cache was estimated at up to $7.6 million

Chesapeake co-founder's collection focused on rare Bordeaux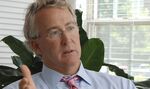 The wine collection of late Chesapeake Energy Corp. co-founder Aubrey McClendon sold for $8.44 million on Saturday, above the estimated range and breaking records for some of the rare French bottles.
The collection included Bordeaux wines such as Chateau Mouton Rothschild and Chateau Margaux, as well as cabernets from the Napa Valley region of California, according to Hart Davis Hart Wine Co., which ran the auction at a Chicago restaurant on Saturday. When the sale was announced last month, the collection was estimated to be worth $5.1 million to $7.6 million.
Almost 1,000 bidders participated in the sale, with the highest price for a single lot going to a case of three double magnums of 1989 Chateau Petrus, which sold for $65,725, including the 19.5 percent buyer's premium, Hart Davis Hart Wine President Ben Nelson said in an e-mail. Three lots of 1989 Haut Brion double magnums set records, with two selling for $35,850. About two-thirds of the collection, measured by sales price, went to U.S. buyers.
The auction was held the day after the deadline to file what were expected to be hundreds of millions of dollars in claims against McClendon's estate.
McClendon was one of the first U.S. energy explorers to employ sideways drilling and intensive hydraulic fracturing techniques to crack dense shale formations, a revolution in the oil and gas industry that triggered a renaissance in U.S. energy production. The Oklahoma native built Chesapeake into the second-largest U.S. gas producer before a shareholder revolt and cratering energy prices forced him out of the company he'd led for a quarter century.
McClendon died on March 2, just hours after he was indicted on federal bid-rigging charges, when his vehicle slammed into a highway retaining wall in Oklahoma City.
McClendon "bought the best vintages and he bought a lot of them," Nelson said in an Aug. 25 interview. "Such huge quantities of the finest wines like this aren't something anyone will see at auction again."
Before it's here, it's on the Bloomberg Terminal.
LEARN MORE