German Protesters Gather to Oppose Transatlantic Trade Deals
By
Thousands take to the streets in seven cities across country

CETA, TTIP would favor industrialized farming, protesters say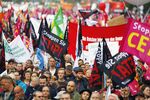 Protesters gathered in seven German cities on Saturday to oppose transatlantic trade agreements between the European Union and the U.S. and Canada.
More than 320,000 people turned out, the organizers said in an e-mailed statement. In Munich, thousands met on the central Odeonsplatz square and adjoining Ludwigsstrasse in heavy rain as the annual Oktoberfest opened just a few miles away.

"There is no bad weather, there are only bad trade agreements," Karl Baer of the Munich Environmental Institute said in opening remarks before a crowd wielding signs and flags of organizations including the Green party, labor unions, local farmer groups and non-governmental organizations such as Attac and Greenpeace. 
Protesters argue that the trade agreements would favor industrialized agricultural processes over craft-based food production that's not genetically engineered. They say the deals would cost thousands of jobs and lead to lower standards in employment and food safety.
EU trade ministers are preparing to meet in Bratislava, Slovakia, on Sept. 23. EU government officials such as France's Minister of Foreign Trade Matthias Fekl and German Economy Minister Sigmar Gabriel have talked down the prospects for a consensus on the Transatlantic Trade and Investment Partnership, or TTIP. Their skepticism reflects mounting concern across Europe and in the U.S. over the impact of free-trade agreements.
For a QuickTake explainer on the free-trade debate, click here.
While TTIP's advocates point to the economic benefits of an accord and the introduction of global standards, its detractors say it would erode wages and conditions. A populist surge is meanwhile feeding protectionist sentiment that further complicates the conclusion of trade agreements such as an EU-Canada deal known as CETA.
Germany's Gabriel, who leads the country's Social Democratic Party, expects fellow party members to approve CETA at a convention on Monday in Wolfsburg, Bild am Sonntag reported, citing an interview. If they don't, nobody will take the EU seriously and China and the U.S. will set the standards of global trade agreements, he told the newspaper.
At the Group-of-20 summit in China this month, global economic leaderssaid the populist mood sweeping many developed nations threatens trade, and called on governments and businesses to keep goods flowing across borders. That warning came amid a dimming global growth outlook and faltering momentum for the U.S.-led Trans-Pacific Partnership agreement in the final months of President Barack Obama's term. Presidential candidates Donald Trump and Hillary Clinton have both spoken against the deal, which excludes China.
Before it's here, it's on the Bloomberg Terminal.
LEARN MORE