Edward Albee, Acclaimed Playwright, Dies at 88, AP Says
Felix Kessler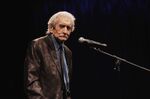 Edward Albee, who wrote "Who's Afraid of Virginia Woolf" and 30 other plays, won three Pulitzer Prizes and became the era's leading American playwright, has died at 88, Associated Press reports.
Albee died Friday at his home on Long Island, AP cited his assistant as saying, without giving the cause of death.
Albee mined a privileged but unhappy childhood for his dramatic art. Told at age five by his mother that he was adopted, Albee said he was "rather relieved" by the news. While others may worry they aren't their parents' children, he said, "I had the terrible fear that maybe I was."
"All his work has deep autobiographical roots," wrote Mel Gussow in his biography, "Edward Albee: A Singular Journey," saying the playwright had "plundered his past."
After Arthur Miller and Tennessee Williams held sway over American theater in the middle of the last century, Albee surfaced in the 1960s as "the American agent of the Absurd, our homegrown equivalent of (Samuel) Beckett," said Gussow, a New York Times critic. Others said Albee belonged with Eugene O'Neill among the most important American playwrights.
Albee's influence was "extraordinary," as Gussow put it. Sam Shepard, Lanford Wilson, John Guare and David Mamet are a few of the American playwrights often cited as following him in creating a more imaginative and experimental form of theater.
"You can't imagine the debt that every American playwright writing after 1960 has to Edward Albee," Guare wrote.
'Theatrical Revolution'
On seeing Albee's first play, the one-act "The Zoo Story" about a park bench encounter between two men, Guare walked out of its Greenwich Village theater in a feverish daze. "Whatever theatrical revolution had started in England and France had finally hit America," he wrote in 1994 in a program for a London production of Albee's "Three Tall Women."
Born March 12, 1928, in Washington, to a mother who had been deserted, Albee was adopted 18 days later by Reed Albee and his wife Frances, a former store model. They lived on a luxurious estate in Larchmont, a New York City suburb, where Edward staged battles with hundreds of his toy soldiers.
Bored at school, Albee said he was self-educated from the day his mother berated him for reading the family's leather-bound works by Russian authors, previously untouched. He was expelled from boarding school, then thrown out of Valley Forge Military Academy -- like J.D. Salinger before him -- and dropped out of Trinity College without graduating, or attending classes.
Fighting, Fleeing
Almost 21, he fled home after a fight that erupted when he left the family car's headlights on overnight. Albee spent a decade as a bohemian in New York, drinking heavily in Greenwich Village bars and working on-and-off as a Western Union messenger. He wrote poetry, short fiction and a novel before Thornton Wilder suggested he try his hand at playwriting.
Feeling "desperation," Albee said, he began writing the play that became "The Zoo Story" in late February 1958. He wrote in ''sort of an explosion'' and was done March 10, two days before the self-imposed deadline of his 30th birthday.
"The thing that happened with 'The Zoo Story' was that I suddenly discovered myself writing in my own voice," Albee told Gussow.
Getting it staged was harder. Its inaugural production was in Berlin in 1959, performed in German as ''Die Zoo-Geschichte'' in a double bill with Beckett's ''Krapp's Last Tape.''
Despite favorable European reviews, the play wasn't welcomed in New York. Arthur Penn, Lee Strasberg and David Merrick rejected it. Norman Mailer cheered alone at an Actors Studio reading, calling it ''the best (expletive) one-act play I've ever seen.''
Mixed Reviews
When ''The Zoo Story'' and ''Krapp's Last Tape'' eventually opened in January 1960 in Greenwich Village's Provincetown Playhouse -- the scene of O'Neill's first triumph -- the New York Times led the naysayers. The New York Post's enthusiastic rave, however, made ''Zoo Story'' a hit.
"Who's Afraid of Virginia Woolf" -- Albee spotted the line scrawled in a Greenwich Village bar's bathroom -- brought him financial as well as artistic success. After opening in October 1962, it ran for 664 performances on Broadway and won five Tony Awards in 1963, including best play. The Pulitzer Prize's drama jury nominated it for the drama prize, then resigned with a public outcry after the board refused to name it best play.
The 1966 movie of ''Virginia Woolf'' won five Academy Awards, including a best actress Oscar for Elizabeth Taylor, who starred with husband Richard Burton in the roles of the squabbling academic couple, the foul-mouthed Martha and George.
Major Achievement
If "The Zoo Story" made Albee a star playwright overnight, "Virginia Woolf" became "the cornerstone of his career," said Gussow. He had spotted Albee's talent as a Newsweek critic, and hailed the writer's arrival in a cover story.
As with subsequent Albee plays, newspaper critics were divided over "Virginia Woolf." Many objected to Martha and George's filthy language. Friends found echoes in the drink-fueled spats between Albee and his mentor and early companion, William Flanagan.
Albee made no secret of his homosexuality but said it wasn't a theme or issue in his plays. "I don't think being gay is a subject, any more than being straight is a subject," he told a San Francisco conference of gay writers in 1991.
After Flanagan, he lived with the playwright Terrence McNally and then for 34 years with the sculptor Jonathan Thomas until his death in 2005.
Three Pulitzers
As a possible apology for vetoing "Virginia Woolf", Pulitzers for best drama were awarded to Albee for "A Delicate Balance (1967), ''Seascape'' (1975) and ''Three Tall Women'' (1994), a surprisingly compassionate look at his domineering adoptive mother and his comeback play after many flops.
Albee for many years taught courses in playwriting at the University of Houston and helped fund writers through his Montauk, Long Island, arts colony. He said teaching was part of his self-education.
All his plays were ''about people missing the boat, closing down too young, coming to the end of their lives with regret at things not done,'' Albee said.
As for himself, Albee had ''no enthusiasm whatever about dying,'' he told the Times as he neared 80. "I think it's a terrible waste of time, and I don't want to participate in it.''
Before it's here, it's on the Bloomberg Terminal.
LEARN MORE