Vanguard Crushing Competitors With Active Fund Inflows Too
by
Firm known for indexing gets $27.1 billion at active funds

DoubleLine, AQR also attract lots of investor cash this year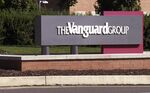 Vanguard Group isn't just taking money away from firms that pick stocks and bonds with its index funds. It's also beating rivals at their own game. 
Vanguard, the world's largest mutual fund company, attracted a net $27.1 billion to its actively managed mutual and exchange-traded funds in the first eight months of the year, more than any of its competitors, according to a report Friday from Morningstar Inc. Fidelity Investments and Franklin Templeton had outflows from their active funds of $34 billion and $29 billion, respectively, in the same time period.
Stock and bond pickers have been struggling to hang on to money as investors, unhappy with the performance and higher costs of active funds, move to vehicles that mimic indexes. Active mutual funds and ETFs suffered redemptions of $150 billion in the first eight months of the year, while passive funds attracted $286 billion, Morningstar data show. 
"Vanguard is famous for passive, but they are doing well on the active side as well," Alina Lamy, the Morningstar analyst who wrote the report, said in a telephone interview.
Jeffrey Gundlach's DoubleLine Capital ranked second with $11 billion in active fund flows through August and AQR Capital Management, co-founded by Clifford Asness, placed third with $10.3 billion in deposits.
Wellington, Primecap
Vanguard, based in Valley Forge, Pennsylvania, also is dominating on the index side. The firm won $162 billion to its passive vehicles. BlackRock Inc., the world's largest money manager, placed second with $62 billion.
About 30 percent of Vanguard's $3.8 trillion in assets is in active funds. Many of those funds are run by other firms, including Wellington Management in Boston and Primecap Management in Pasadena, California.
"Despite the general tarring and feathering of active funds, those funds with low-cost and strong, long-term performance are attracting investor interest," said John Woerth, a spokesman for Vanguard.
The $28 billion Vanguard Intermediate Term Investment-Grade Fund gathered about $5.5 billion this year, the most money of the firm's active funds.
Morningstar estimates flows by calculating the change in assets in a fund that isn't explained by performance.
Before it's here, it's on the Bloomberg Terminal.
LEARN MORE