Trump Campaign Says He Believes Obama Was Born in the U.S.
By and
Campaign said Hillary Clinton first raised issue as smear

He brought the 'ugly incident' to conclusion, campaign said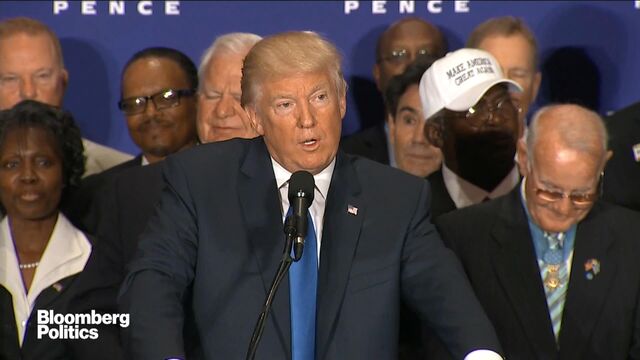 Donald Trump's campaign said Thursday that the Republican presidential nominee believes President Barack Obama was born in the U.S., despite years of questioning that biographical detail.
Trump campaign senior communications adviser Jason Miller said that Trump is proud of the role he played leading up to Obama's 2011 release of his long-form birth certificate -- which proved he was born in Hawaii -- and blamed Democratic presidential nominee Hillary Clinton as having first raised the issue, a claim fact-checkers have rated false.
"Mr. Trump did a great service to the President and the country by bringing closure to the issue that Hillary Clinton and her team first raised. Inarguably, Donald J. Trump is a closer," Miller said in a statement. "Having successfully obtained President Obama's birth certificate when others could not, Mr. Trump believes that President Obama was born in the United States."
In recent weeks, Trump has made a concerted effort to reach out to the black community, visiting a church in Detroit, a charter school in Cleveland, and the waterworks in Flint, Michigan, where many people in the heavily black community were poisoned by lead in their drinking water.
But Trump has struggled to consolidate black support. Trump and his campaign believe the so-called birther issue is an impediment to larger gains and want to put the issue behind them.
Eric Schultz, a White House spokesman, declined to comment about the Trump campaign's press release. The Clinton campaign said the statement wasn't enough.
"Trump needs to say it himself. On camera. And admit he was wrong for trying to delegitimize the country's first African American President," Clinton campaign spokesman Brian Fallon said on Twitter.
Trump has faced new questions from reporters in recent weeks about whether he believes Obama was born in Hawaii. In an interview with the Washington Post published Thursday, Trump said when asked about it that he'd "answer that question at the right time. I just don't want to answer it yet," Trump told the Post.
"Hillary Clinton's campaign first raised this issue to smear then-candidate Barack Obama in her very nasty, failed 2008 campaign for president," Miller said. "This type of vicious and conniving behavior is straight from the Clinton Playbook. As usual, however, Hillary Clinton was too weak to get an answer."
PolitiFact, a nonpartisan fact-checking website, said in September 2015 that there is no record that Clinton herself started the accusation that the president was not a natural-born citizen.
"A review by our fellow fact-checkers at Factcheck.org reported that no journalist who investigated this ever found a connection to anyone in the Clinton organization," the group said at the time. "The story appears to have started with supporters of Clinton, an important distinction."
Miller said that Trump is now "totally focused on bringing jobs back to America, defeating radical Islamic terrorism, taking care of our veterans, introducing school choice opportunities and rebuilding and making our inner cities safe again."