Trump Delights in Media Misfortune as Press Corps Shows Up Late
By
Plane with journalists arrives at New Hampshire rally late

Two-dozen journalists pay for space aboard chartered flights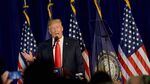 Donald Trump, who has enjoyed a strained relationship with the press during the general election campaign, had a message for the crowd who attended a Thursday night rally in Laconia, New Hampshire.
"I have really good news for you. I just heard that the press is stuck on their airplane. They can't get here. I love it," Trump told the crowd of several hundred, according to transcripts posted on Twitter by NBC News. "They're gonna be about 30 minutes late. They called us and said 'Could you wait.' I said 'Absolutely not.' Lets get going, right? Let's get going New Hampshire."
The plane was a chartered and organized by the Trump's campaign. The journalists and their organization paid for the space in order to stick close to the Republican standard bearer.
The flight with about two-dozen reporters aboard departed Teterboro Airport in New Jersey about the same time Trump's plane left LaGuardia Airport following a taping of the "Tonight Show Staring Jimmy Fallon."
By the time reporters arrived at the rally, just three minutes remained in Trump's speech.
After the charter plane arrived, reporters underwent screening by the U.S. Secret Service.
Before it's here, it's on the Bloomberg Terminal.
LEARN MORE