Knives, Car Used in Attacks as Violence Against Israelis Flares
By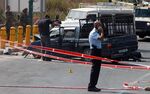 Violence against Israelis flared in the West Bank and Jerusalem on Friday with attacks involving knives and a car-ramming.
Multiple attacks on a single day have become less common in recent months, making the three on Friday unusual. In the first assault, a Jordanian man tried to stab police officers at the Damascus Gate in Jerusalem's Old City, police spokesman Micky Rosenfeld said in a text message. The attacker was shot and killed, he said.
Hours later, Palestinian assailants rammed a vehicle into a bus stop at a junction near the Kiryat Arba settlement in the West Bank, wounding three Israeli civilians, the military said.
Soldiers fired at the vehicle, killing one of the attackers and wounding the other, it said in a statement. A knife was found in the vehicle, it said.
In late afternoon, a Palestinian man armed with a knife stabbed an Israeli soldier, and was shot to death by troops at the scene, the military said.
The flareup came amid a relative lull in a wave of lone wolf attacks against Israelis that erupted about a year ago. Palestinians have attributed the violence to frustration over continued Israeli occupation of lands they claim for a state, while the Israeli government has put the blame on incitement magnified through social media.