Starbucks Navigates Political Prank by Brazil President's Foes
By
My name is 'Out With Temer,' says man who sparked cup fad

Temer and Rousseff are two of Brazil's most unpopular leaders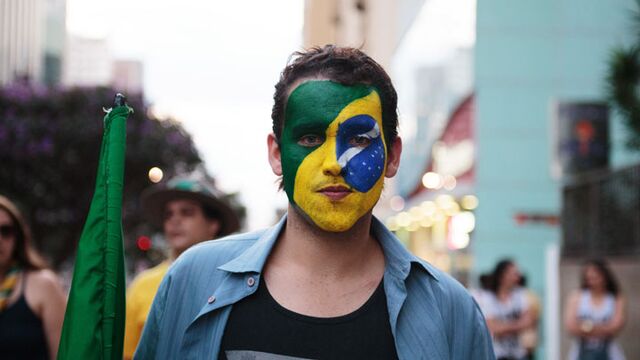 Starbucks -- go figure -- has a bit of a political conundrum in Brazil after the impeachment of the country's president raised tensions among Brazilians reeling from recession and turmoil.
Brazilian playwright Vini Soares entered a Starbucks in mid-July and said "Out With Temer" when the cashier, black marker at hand, asked for his name to identify his large cappuccino order. A picture of his comical protest against Brazil's new president, Michel Temer, was posted on Facebook and shared more than 3,600 times.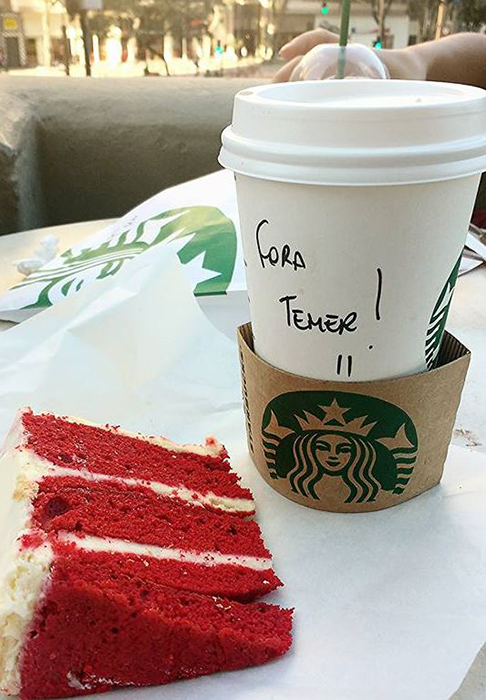 While Soares isn't sure if he was the first to pull the prank, it definitely gained a following. The Seattle-based chain has set a country-wide policy to deal with the growing number of customers using its tradition of writing names on cups as a way to protest against Temer, who reached Brazil's highest office through an impeachment process instead of a general election.
"It was a joke and I wasn't expecting such an impact," Soares said by phone from Rio. "I definitely think the scene would raise even more commotion now, since criticism against Temer's policies has grown in the past few months."
Temer and his predecessor, Dilma Rousseff, are two of the least popular presidents in Brazil's history. Only 14 percent of those polled in a Datafolha opinion survey in July considered the Temer administration good or very good, compared with 13 percent for the Rousseff administration in April, the most recent available. Most want new elections, but bringing forward the vote scheduled for 2018 is a difficult task that would require changing the constitution. Rousseff was suspended in May for masking a budget deficit, and Temer, her former vice president, formally took office on Aug. 31.
Following similar scenes around the country, Starbucks instructed employees they can follow the client's request on the cup, but have to call them by their real names or drink selection instead of parroting the political slogan. Starbucks stands as a nonpartisan brand and doesn't comment on political matters, the company said in an e-mailed response.
Investors are starting to question Temer's ability to push an austerity package through a divided Congress with such a weak political mandate. Brazil desperately needs to increase revenue and curb spending to correct years of growing budget deficits.
For Soares, the fact that the prank caught fire at a coffee shop that is considered upscale in Brazil shows that Temer's center-right administration doesn't even have support among Brazilians who have traditionally opposed Rousseff's Workers' Party.
"Starbucks is an expensive chain in Brazil. It's no longer a protest of just leftist or poor people," Soares said.
Before it's here, it's on the Bloomberg Terminal.
LEARN MORE