Salesforce Rises in Benioff's Shadow to Become a Force in Venture Capital
Cloud company's VC arm has backed at least 31 startups so far this year. VC chief sees boss Benioff as more collaborator than competitor.
By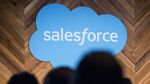 Looking for up-and-coming startups is a competitive business in Silicon Valley, but it becomes much harder when one of the field's highest-profile practitioners is your boss.