Ryan Tames Conservative House Republicans Who Tormented Boehner
By
Speaker defused IRS impeachment push, managing funding debate

House conservatives approaching Ryan differently than Boehner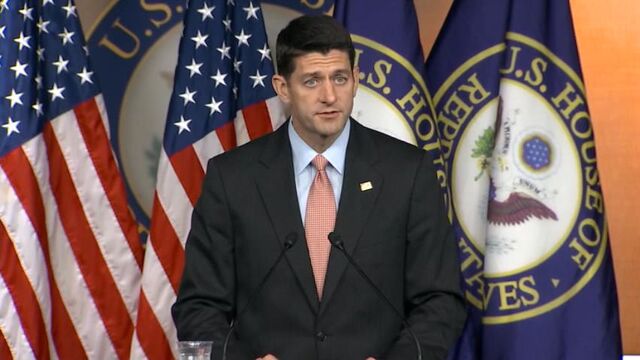 U.S. House Speaker Paul Ryan has managed to do something John Boehner never did -- tame a restive band of conservative Republicans, at least for now.
Ryan, after nearly a year as House speaker, has a firmer grip on his chamber than his predecessor, who was practically run out of town by the ultra-right-wing group of conservatives, known as the Freedom Caucus.
The latest incident came late Wednesday night, when conservatives postponed an effort to force a vote on impeaching John Koskinen, the commissioner of the Internal Revenue Service, settling in the interim for his testimony next Wednesday before the House Judiciary Committee.
The outcome worked out for both Ryan and the Freedom Caucus: The speaker was able to delay a controversial vote, while conservatives get to put Koskinen before the Judiciary Committee, where several Freedom Caucus members, including its chairman, Jim Jordan of Ohio, will get to question him.
Negotiations over a stopgap spending measure that funds the government after Sept. 30 have also been smoother than usual so far, with conservatives resigned to accept the kind of measure they bristled at under Boehner.
'Balancing Demands'
"There's always going to be difficulties no matter who is speaker," said Representative Peter King of New York. "But he seems to be doing a good job at balancing demands. The conservatives seem to be willing to work with Paul more than they did John."
Republicans within the Freedom Caucus's 40 or so members, as well as other House members outside the group, describe Ryan as benefiting from a number of factors.
Those include Ryan's status as a national conservative leader and former vice presidential candidate, as well as lawmakers' election-year desire to avoid stunts that could backfire and hurt the party's prospects in November elections. 
Other Republicans say the blame-game approach to demonizing their party's own leaders, rather than focusing on making government work, is starting to wear thin with some voters.
Grassroots Efforts
Ryan, 46, of Wisconsin, is described by his colleagues as a speaker who makes more of an effort than Boehner to reach out and get input from everybody.
"We meet with the speaker, talk to him every week," says Jordan. "That's something good. I'm sure I meet with Paul more than I met with Speaker Boehner. And I think the speaker has done a good job communicating our vision."
"The 'Boehner problem' for Paul Ryan -- if there is one -- actually isn't a relationship here with conservatives," said Dave Schweikert of Arizona, another Freedom Caucus member. "I can walk into his office and get listened to. I don't always get what I want, but I have had more opportunities to move amendments, more of a voice in the last year than I've had in the last four years."
Strategic Shift
Ryan's more inclusive approach has mollified conservatives, and it also comes as many Republicans are focused on projecting a more positive image of the party's accomplishments.
"You can only go home so many times and say, 'Well, this chairman's bad, this person's bad, this speaker's bad,'" says Devin Nunes of California, chairman of the House Permanent Select Committee on Intelligence and a close Boehner ally. "If I went home the last five years saying that, right now I think my constituency will probably have had enough and tell me, 'Wait a minute, maybe you're the problem.'"
Rather, Nunes said he believes the conservatives who gave Boehner so much trouble -- many of whom arrived in the Tea Party wave election of 2010 -- have come to realize that they've got to start playing a different tune in Washington. 
"When you're new, it's all fun and games. But now you've been here, you've had a chance to make a difference," he said. "What difference have they really made at this point?"
Potential Risks
Things could still flare up. On the IRS impeachment effort, Representative Tim Huelskamp of Kansas, a member of the House Freedom Caucus who lost his primary race for re-election, said Thursday that he doesn't know of any agreement to delay a vote until November and that he plans to press for a floor vote next week.
While negotiations over the stopgap spending measure haven't yet produced public threats to shut down the government, as in previous years, conservatives like Freedom Caucus co-founder Mark Meadows of North Carolina say they want a spending bill that would last until early next year. Republicans leaders are pushing for a bill that would last through Dec. 9, but conservatives say they want to avoid potential lame-duck chicanery with a giant omnibus package of 11 or 12 spending bills in a post-election session.
Still, in a search for "middle ground," Meadows said they've offered to consider a shorter bill in return for something the Freedom Caucus and others have been demanding for several months -- a pause on accepting Syrian refugees.
The caucus generally hasn't been keen on finding a middle ground until now. And in fact, Schweikert acknowledges their calculus has been shifting.
"We're sort of damned if we do, damned if we don't," he said, of suggestions the Freedom Caucus is being tamed or is caving in on the stopgap spending measure.
November Election
"We could go to the wall on this and have the left create a story that factually would not be true -- but would be covered -- that conservatives are pushing for a government slow-down or shut down," he added. "But that would damage our presidential nominee, and other candidates."
Ryan, meanwhile, described his grassroots approach to the IRS dispute on Thursday during a news conference, saying he is trying to use regular procedures and empower committee chairmen.
"The chair worked it out with the members involved," said Ryan, referring to Judiciary Chairman Bob Goodlatte of Virginia. "And he's going to have a hearing. So I think this agreement they reached was a good way to work things out."
A number of Republicans had been uneasy about the impeachment vote because it appeared partisan and would have set a precedent by being the first effort to impeach an executive branch official below cabinet rank.
Representative John Fleming of Louisiana, a main sponsor of the impeachment push, said he sees it a bit differently: "We've pressured leadership to move forward with regular order on this issue."
Facing Re-Election
When the new Congress meets next year, Ryan will face another election to retain his speakership. Nunes is seeking to change House rules next year to make it more difficult for a small group of lawmakers to try to force a new election for speaker at almost any time, requiring such a move to first get the approval of a majority of the entire Republican conference.
Nunes said the potential for a long-shot motion to remove Boehner as speaker based on language from "The Jefferson Manual," written by Thomas Jefferson when he was vice president -- and used by the House as a supplement to its standing rules -- hung "like a sword" over Boehner's head and was politically embarrassing.
"We have a responsibility to take these gimmicks away," said Nunes.
Meadows, a conservative who filed such a motion in 2015, disputed that the move was a gimmick and said the Freedom Caucus would oppose changing the rule.
"Why would we change something in Jefferson's Manual?" he asked.
Before it's here, it's on the Bloomberg Terminal.
LEARN MORE