Russia Urges U.S. to Pressure Syria Rebels on Aleppo Aid Convoys
By
Defense Ministry in Moscow says U.S. is 'passive observer'

Kerry, Lavrov 'generally satisfied' with truce, Russia says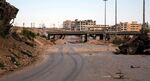 Russia accused Syrian rebels of blocking aid to Aleppo and urged the U.S. to put pressure on the armed groups as the deadlock over humanitarian supplies cast a shadow over a four-day-old cease-fire.
The U.S. is "playing the role of a passive observer" and failing to exert influence on the opposition fighters, Russian Defense Ministry spokesman Igor Konashenkov said in an e-mailed statement on Friday. Syrian government forces are ready to pull back at the same time as the rebels, he said.
Russia issued its criticism after the United Nations said Syria hadn't provided the necessary permission for its aid convoy to go to rebel-held eastern Aleppo, where 300,000 civilians are trapped. The UN envoy to Syria, Staffan de Mistura, on Thursday stressed the need for the U.S. and Russia to ensure opposition and government forces disengaged along the Castello Road, a major transport artery along which the convoy of 20 trucks will go.
The cease-fire that took effect Monday is the latest effort by Russia and the U.S. to ease the 5 1/2-year conflict in Syria. They reached agreement at talks in Geneva last week that the truce should lead to coordinated efforts to fight terrorist groups in the Middle East country, a resumption of peace talks and provision of humanitarian aid. The war has killed at least 280,000 people and caused millions to flee, provoking the worst refugee crisis in Europe since World War II and helping to create a haven for Islamic State to conduct a global terror campaign.
Lavrov, Kerry
Russian Foreign Minister Sergei Lavrov and U.S. Secretary of State John Kerry discussed the situation in Syria by phone on Friday and are "generally satisfied" with the truce, the Foreign Ministry said in a website statement. Lavrov expressed concern at rebel violations and urged Kerry to ensure the U.S. meets its pledge to make insurgents cut ties with al-Qaeda fighters, according to the statement. He also said that rebels are threatening to block aid deliveries, the ministry said.
Russia and the U.S. have backed opposing sides in the Syrian civil war even as they cooperate on trying to end the violence in the country, which has become the epicenter of regional political rivalries and a hotbed of terrorism.
Before it's here, it's on the Bloomberg Terminal.
LEARN MORE