Style
Plaid Patterns Are Everywhere This Fall. Here's How to Wear Them
From the runway to your closet, checks are getting around.
By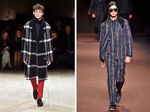 According to the clothes that traveled down the fall/winter 2016 runways, colorful plaid patterns aren't just for socks and blankets any more. Now they live on your new favorite fall jackets, trousers, and even shoes.
Below are a handful of the best new items on the market featuring this trend, as well as four tips on how to wear it.

Plaid often means something, be it a Scottish clan's tartan, a lumberjack's checked flannel shirt, or a red-and-black buffalo plaid coat made for an outdoorsman. Because of this, it can appear costume-y if worn too far out of context. Try to match your plaid to the environment: Don't wear a Buffalo check to a rock concert, and don't wear a Scottish tartan to the office.
If the color is muted, feel free to indulge in a larger scale of plaid such as a windowpane check. If the colors are brighter, think small: A big pattern in bold colors will just leave you looking like a peacock.
Accessorize with plaid. You don't need a full Prince of Wales check suit to make a statement. Pair a navy or gray suit with a loud, plaid scarf or even a tote bag. It will be the main focus and complete your look.
Plaid, tartan, and checks are great for layering. Wear a plaid shirt under a simple, single-color jacket or blazer, or put a checked coat over a white Oxford. Try not to do plaid-on-plaid, unless you really want to get attention.
Before it's here, it's on the Bloomberg Terminal.
LEARN MORE