Obama Recruits Kasich, Paulson to Sell Struggling Trade Deal
By
Trans-Pacific Partnership is on life support in Congress

Donald Trump and Hillary Clinton both oppose ratification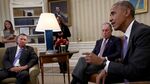 President Barack Obama on Friday ramped up his campaign to persuade Congress to pass his struggling trade deal with Asia, a pact that remains opposed by both presidential candidates and many rank-and-file lawmakers in each party.
Obama invited a bipartisan group of politicians and business leaders to the White House for an Oval Office meeting on the deal, which congressional leaders say is unlikely to get a vote this year. Participants included Republicans John Kasich, the governor of Ohio, and former Treasury Secretary Hank Paulson, as well as Michael Bloomberg, the founder and majority owner of Bloomberg LP, the parent company of Bloomberg News.
"They know that this is important for our economy and this is important for our national security," Obama said at the meeting. "If we are not in there making sure that fair trade is established in the Asian market, we're going to be cut out."
Obama hopes the meeting's participants, also including Ginni Rometty, the chairwoman and CEO of International Business Machines Corp, and John Bel Edwards, the Democratic governor of Louisiana, can raise pressure on Democrats and Republicans in Congress to ratify the sweeping 12-nation Trans-Pacific Partnership after the November elections. Before the meeting, the White House circulated an op-ed titled "Help American Workers. Pass TPP," by Bloomberg and the U.S. Chamber of Commerce CEO, Tom Donohue.
For Michael Bloomberg's op-ed on the Trans-Pacific Partnership, click here.
"It's imperative that the strong majority of voters who support expanded trade urge members of Congress to pass TPP this year -- and hold them accountable for the lost jobs that will result if they fail to do so," they wrote in Bloomberg View.
Trump and Kasich
The trade deal, which would cover about 40 percent of global commerce, is on life support. Republican presidential nominee Donald Trump has vowed to scrap it altogether if he's elected, and Democratic nominee Hillary Clinton -- pushed to the left on the accord during her primary campaign -- has said she would at least seek to renegotiate it.
Kasich complained that debate over the merits of the trade deal has been subsumed by partisan politics, and said the pact is vital for the U.S. to seize strategic advantage in the Pacific region. Earlier on Friday, Trump held a news conference at a new hotel he renovated blocks from the White House at which he publicly acknowledged for the first time that Obama was born in the U.S., but falsely claimed that Clinton had started the "birther" movement Trump championed after Obama's election.
"I don't recognize this town much anymore," Kasich said at the White House daily briefing for reporters, after fielding and deflecting questions about Trump's remarks. "When politics is the order of the day and partisanship trumps country, we drift. We drift as a nation.
"This is a moment for people to begin to reverse that," he said, referring to a potential vote on the trade deal. "These are fledgling countries in Asia, and we want to pivot to Asia? We have to do this."
The Republican leaders of the House and Senate have said the deal doesn't have enough support to pass Congress and thus won't be called up for a vote this year.
"As long as we don't have the votes, I see no point of bringing up an agreement only to defeat it," House Speaker Paul Ryan said in an interview with Wisconsin Public Radio last month. "I have my own problems with TPP. It is not ready. The president has to renegotiate some critical components of it."
Asia Criticism
Asian nations that are party to the trade agreement have warned that it cannot be renegotiated. Singapore's prime minister, Lee Hsien Loong, said in Washington last month that U.S. credibility was on the line over the pact. Obama acknowledged their concerns in Laos last week and said the politics of the deal were "difficult" for U.S. lawmakers.
"Failure to move ahead with TPP would not just have economic consequences, but would call into question America's leadership in the region," he said during the trip.
Skepticism that the deal will be enacted has built to such a pitch that passage before Obama leaves the presidency would be a major surprise.
"The sand has run through the hour glass pretty fast," Ryan said in the public radio interview. "I don't see how they'll ever get the votes for it."
Obama's meeting comes two days after the President's Export Council held its final meeting at the White House, with executives from Xerox Corp and United Parcel Service Inc. pledging to lobby Congress and the public to support TPP in the months ahead.
"It's fundamental to America staying at the forefront of trade and success," Xerox CEO Ursula Burns told reporters Wednesday. "Globalization is happening. We need to actually deal with it with strength."
Atlanta Mayor Kasim Reed and James Stavridis, former NATO supreme allied commander and the dean of the Tufts University Fletcher School of Law and Diplomacy, also participated in Friday's White House meeting.
Reed said at the White House meeting that he doesn't believe Trump or Clinton would renounce the trade pact if Congress approves it before Obama leaves office, and a "strategy of the facts," combined with a "broad bipartisan coalition," could lead to a vote.
"We intend to see that this bill is passed," he said.
— With assistance by Margaret Talev
Before it's here, it's on the Bloomberg Terminal.
LEARN MORE