Japan Is Stepping Up Engagement in South China Sea Against Xi's Will
by
Inada speaks during first visit to U.S. as defense minister

Xi told Abe to 'exercise caution' on South China Sea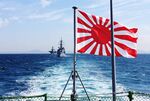 Japan's new defense minister said Thursday her nation would step up activity in the South China Sea, in comments made less than two weeks after Chinese President Xi Jinping urged Japan to "exercise caution" in the waters.
"Japan on its part will increase its engagement in the South China Sea through, for example, Maritime Self-Defense Force joint training cruises with the U.S. Navy, bilateral and multi-lateral exercises with regional navies, as well as providing capacity building assistance to coastal nations," Tomomi Inada said in a speech at the Center for Strategic and International Studies in Washington.
While not a claimant in the complex web of territorial disputes in the water bisected by vital shipping lanes, Japan has frequently urged all parties to adhere to international law and refrain from trying to change the status quo. Japan has also provided assistance to the coastguards and navies of Southeast Asian nations and has its own, separate territorial dispute with China.
For background on the China's maritime push, click here
In the speech at the Washington think tank on her first visit to the U.S. as defense minister, Inada singled out China for its reclamation of land around maritime features in the water and expressed support for the U.S. Navy's freedom of navigation operations there.
"Coercive attempts to change the facts on the ground and upend the prevailing norms do not serve anybody's interest," she said. "Unfortunately, what China has been doing recently in the East China Sea and South China Sea is just that, and it is raising serious concern in the Asia-Pacific and beyond."

Earlier this month, Xi met Japanese Prime Minister Shinzo Abe for the first time in almost a year and a half. During the discussions on the sidelines of the G-20 summit in Hangzhou, China, Xi said Japan should "exercise caution in its words and deeds" on the South China Sea issue, Xinhua news agency reported.
Inada, who last month became the second woman to be appointed Japan's defense minister, is known for embracing causes that irritate Japan's biggest trading partner. She is a frequent visitor to Yasukuni Shrine, seen by many in China as well as South Korea as a symbol of Japan's past military aggression in Asia.
In her speech, however, she also emphasized that the defense ministry would "keep the door open" for constructive dialogue with China, and that she was committed to accelerated talks on a maritime and air communication mechanism between the two countries to prevent unplanned collisions in disputed areas of the East China Sea.
Before it's here, it's on the Bloomberg Terminal.
LEARN MORE