technology
Apple Hasn't Made Enough iPhone 7s
By and
Pre-orders required to buy an iPhone 7 Plus on first sales day

Apple cut iPhone 5c orders in 2013 when sales disappointed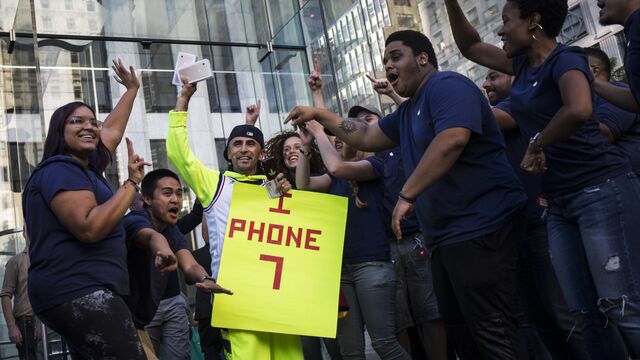 When hordes of customers line up Friday to buy the iPhone 7 on its first day on sale, many risk walking away empty-handed because, more than in previous years, Apple Inc. has not made enough of the devices to meet demand.
Customers who haven't pre-ordered the larger iPhone 7 Plus models will be unable to buy them in Apple stores Friday, the company said earlier this week. The 5.5-inch-screen model boasts a dual back-facing camera system, and analysts said inadequate supply of components for that feature has held up manufacturing.
"We had known for some time that dual lens parts would be constrained at launch, nobody across the board is shipping these components in volume," said Ben Bajarin, an analyst at Creative Strategies. "The fact that all iPhone 7 Plus models are constrained is a sign of the supply chain."
The sight of hundreds of iPhone buyers waiting outside Apple stores to buy the latest handset has become a ritual of the company's marketing. Yet expectations for the iPhone 7 line had been muted before it was unveiled in San Francisco last week amid slowing growth in global smartphone sales. Analysts will be left guessing at early demand anyway because Apple won't disclose initial weekend sales numbers for the new models, breaking with the tradition of past years.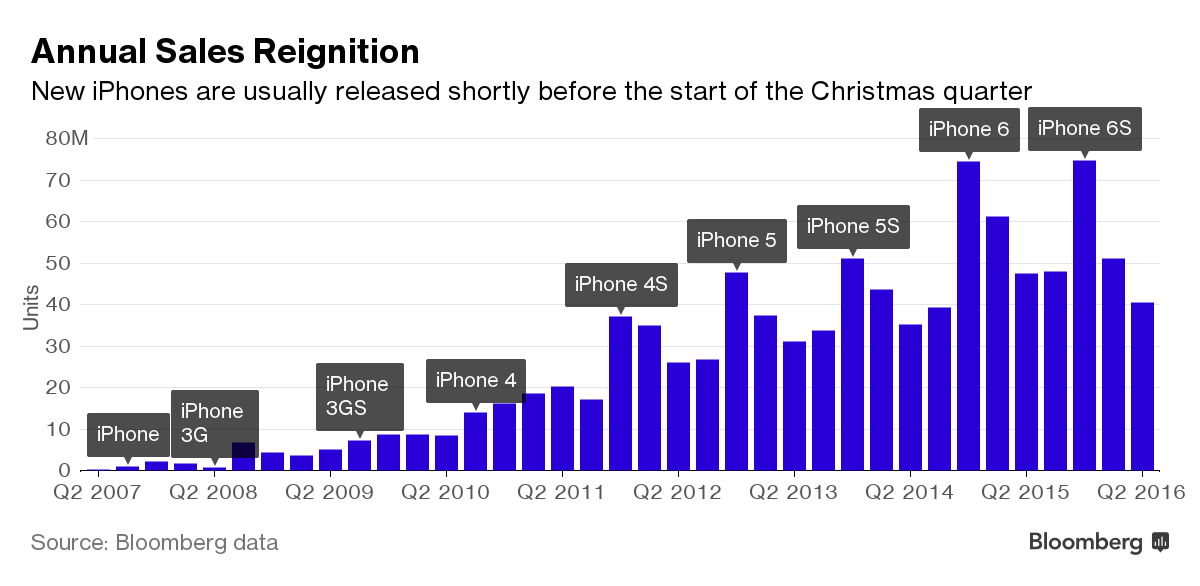 There are two versions of the new iPhone: the 7 and 7 Plus, which start at $649 and $769 respectively. Both come in silver, gold, rose gold, matte black and jet black colors. The first customers to obtain the new models will be in the eastern hemisphere, starting in New Zealand and spreading west to Australia, Japan and China.
The more complicated manufacturing process for the jet black versions of the iPhone 7 may also have held up supply. The production requires nine different stages to achieve the glossy black finish, Apple has said. The jet black version of the 4.7-inch iPhone 7 has also sold out, while the smaller iPhone's other color options will still be in stores Friday, according to the company.
T-Mobile US Inc. and Sprint Corp. said this week that pre-orders for the new models were almost four times as great as for previous models, helping drive Apple stock to its highest level in almost five years. The announcements provided some welcome news for Apple, which analysts expect will suffer its first annual sales decline since 2001. Verizon Communications Inc. said pre-orders were at a similar level to previous years.
More aggressive promotions from U.S. carriers may have attracted new customers, Morgan Stanley analysts including Katy Huberty said in a note to investors Wednesday.
In 2013, Apple overestimated demand for the iPhone 5c and had to cut orders from suppliers. It also reduced orders with the iPhone 6S, according to the Nikkei Asian Review. Some analysts said Apple may be being particularly cautious with supplies this year, in part because global smartphone sales have slowed.
"Apple clearly controls supply tightly," said Matthew Kanterman, an analyst at Bloomberg Intelligence. "They're possibly keeping supply artificially low, or at least lower than demand, so as to avoid having the oversupply of previous years."
"Overall the data reflects Apple's desire to maintain some supply constraints until demand becomes a little more certain, in an effort to avoid the supply glut and associated cuts in the supply chain for the iPhone 6S starting last November," Cowen & Co. analyst Tim Arcuri wrote in a note to investors Wednesday.
An Apple spokesman declined to comment Thursday.
Apple is likely to sell 44 million iPhones in the three months through September, according to RBC Capital Markets estimates, down from the 48 million sold in the same period a year earlier. The iPhone 6S became available in stores Sept. 25, 2015. Sales in the final three months of the year will meanwhile likely reach 79 million units, up from 75 million a year earlier, RBC forecast.
Bajarin said Apple could sell 75 million to 76 million iPhones in the December quarter, which would be year-over-year growth, but supply constraints could prevent that.
Many of the devices are reserved for customers who subscribe to Apple's iPhone Upgrade program, which is being introduced in China and the U.K. this year. It's been in place in the U.S. since 2015. For a monthly fee, people can upgrade their handset once a year. It may also help Apple stabilize iPhone sales in weaker years and predict future revenue more accurately. Apple told iPhone Upgrade customers this week that new models had been set aside for them to pick up beginning Friday.
"IPhone Upgrade Program users have been put at the 'front of the line' when it comes to getting an iPhone," said Neil Cybart, an analyst at Above Avalon in New York. "I suspect most of these efforts are being made in order to avoid the need for iPhone Upgrade Program users to pay their thirteenth monthly payment on their existing iPhone without having the opportunity to upgrade to a new model."
Sign up to receive Fully Charged, a new newsletter from Bloomberg's technology reporters around the world.
Before it's here, it's on the Bloomberg Terminal.
LEARN MORE