Goldman Chooses Cash As It Downgrades Bonds
Long bonds are in for more pain as the bank moves them to underweight.
By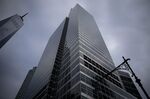 The market's summer Goldilocks phase — characterized by still-low rates, continued monetary support, and an upturn in economic data — has come to an abrupt end. Recent data releases fell short of expectations and a jump in government bond yields is roiling markets around the world.
While the tumult in the bond market has subsided somewhat in recent sessions, a Goldman Sachs Group Inc. team, led by Managing Director Christian Mueller-Glissman, predicts that sovereign debt will perform poorly for the rest of the year. That's prompted the bank to downgrade bonds to underweight on a three-month time horizon, while maintaining its overweight position for cash.
"While rate volatility could pick up in the near term, we expect the most pressure in the back end and continued anchoring of the front end by central banks next week," he wrote, referencing the upcoming policy announcements from the Bank of Japan and the U.S. Federal Reserve. His prediction is that their communiques will be unable to quell increases in the yield of longer-dated securities, even if they keep short-term debt subdued.

Mueller-Glissman expects the U.S. 10-year Treasury yield to rise to 2 percent by the end of the year, and similarly-dated German and Japanese debt at 0.3 and 0.1 percent, respectively.
He echoed his colleague, Co-Head of Global Macro and Markets Research Francesco Garzarelli, in noting that elevated bond valuations, the diminished efficacy of quantitative easing, and the potential for future fiscal stimulus serve as major downside risks for sovereign debt.
The strategists also upgraded equities to neutral, while remaining relatively downbeat on the prospects for U.S. and European stocks.