Ex-Chancellor Osborne Sets Up Northern Powerhouse Think Tank
By
Osborne was fired when Theresa May became U.K. prime minister

Osborne says Michael Bloomberg to work with the partnership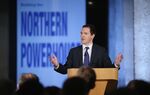 Former U.K. Chancellor of the Exchequer George Osborne launched a think tank to fight for regeneration in the north of England.
Osborne will chair the Northern Powerhouse Partnership, an independent group including politicians and business leaders, to push the initiative he began two years ago.
"It's a very specific idea that the cities of the north are geographically quite close to each other," Osborne told BBC Radio. "The whole can be bigger than the individual parts."
Osborne was fired when Theresa May became prime minister in July and there is speculation she is unenthusiastic about the Northern Powerhouse project. May has spoken of a broader industrial strategy, rather than a focus solely on the north.
Osborne said former mayor of New York, Michael Bloomberg, will work with the new partnership. Bloomberg is the founder and majority owner of Bloomberg LP, the parent company of Bloomberg News.