European Banks Fall as Prospect of Billion-Dollar Fines Loom
By and
Banks slide as U.S. seeks $14 billion from Deutsche Bank

European lenders have yet to resolve U.S. mortgage claims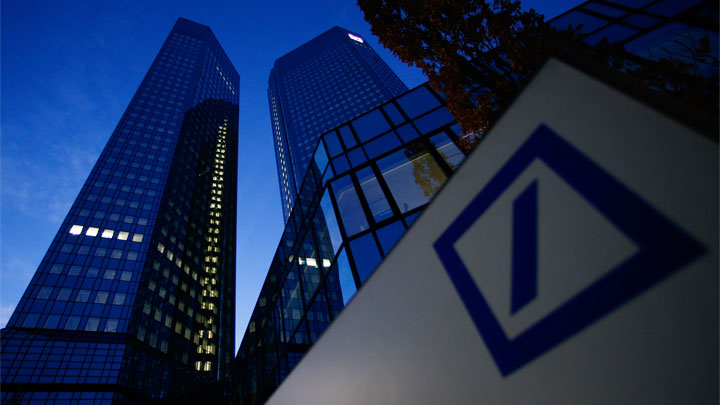 Investors in Europe's biggest banks, frustrated with the problems of today, just got a reminder that the lenders still have to pay for the sins of the past.
Shares in Credit Suisse Group AG, Royal Bank of Scotland Group Plc, Barclays Plc and UBS Group AG fell after Deutsche Bank AG disclosed that the U.S. Department of Justice is seeking $14 billion to settle claims it sold faulty securities before the financial crisis. While U.S. rivals including JPMorgan Chase & Co. and Citigroup Inc. have reached settlements, banks across the Atlantic have yet to resolve similar probes.
While Deutsche Bank said it's not willing to pay "anywhere near" $14 billion to resolve the DOJ case, the claim has added to concerns about the ultimate size of the agreements and whether European banks will need to raise more funds to cover them, analysts said. The region's largest lenders have seen a slump in earnings, hurt by volatile markets and negative rates, with the U.K.'s vote to exit the European Union adding to uncertainty about Europe's growth prospects.
"News flow over last couple of months has been centered on one major topic: Brexit," said Joseph Dickerson, an analyst at Jefferies International Ltd. in London. "The market may have become slightly complacent, and this serves as a reminder the numbers could prospectively be quite large."
Stock Drops
Deutsche Bank fell 7.9 percent to 12.06 euros at 12:05 p.m. in Frankfurt, the biggest drop in almost three months. Credit Suisse fell 4.7 percent to 12.72 Swiss francs in Zurich, while RBS, Barclays and UBS also slid. The Bloomberg Europe Banks and Financial Services Index has tumbled 24 percent this year, eroding about 215 billion euros ($241 billion) of market value.
The DOJ and the U.S. Federal Housing Finance Agency, or FHFA, have been probing whether the biggest banks sold shoddy mortgage-backed securities in the run-up to the financial crisis. Six European banks, including HSBC Holdings Plc, sold almost $80 billion of securities that have been subject to FHFA complaints, according to data collected by Bloomberg Intelligence.
The $14 billion sought by U.S. authorities is quadruple the $3 billion to $3.5 billion that JPMorgan analysts led by Kian Abouhossein said would be in line with their litigation estimates. It would also be more than what U.S. banks with larger mortgage operations paid.
'Pushing Back'
"It seems that with every settlement the DOJ wants to get more from European companies," said Andreas Domke, a portfolio manager at Allianz Global Investors whose fund holds about 2 million Deutsche Bank shares. "It's good Deutsche Bank is pushing back while asking to lower the fine."
The amount of securities subject to the FHFA's complaints can serve as a guide as to how much the DOJ will seek in penalties, according to Bloomberg Intelligence. RBS, based in Edinburgh, sold $32.1 billion, more than Deutsche Bank and Credit Suisse combined.

RBS has set aside about $7 billion to cover the probes, Abouhossein wrote in a note to clients on Thursday. Chief Executive Officer Ross McEwan said last month that his bank has yet to enter talks over a settlement amount with the DOJ. An agreement is one of the biggest issues the bank must overcome before it can pay dividends.
Deutsche Bank and Credit Suisse, both in the midst of lengthy overhauls to boost profit, sold about $14 billion each of the mortgage-backed securities that were included in the FHFA complaints. While analysts said the DOJ's claim was just an initial request in the settlement process, the number has only added to uncertainty.
"Everyone's just stabbing in the dark," said Andreas Brun, an analyst with Mirabaud Securities LLP. "All there's to do is wait."