Masters in Politics Podcast
Emily's List President Calls Trump Childcare Plan a 'Ploy'
By and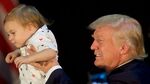 Emily's List president Stephanie Schriock is not impressed with Donald Trump's childcare plan. 
"I will say that for someone who clearly has realized with less than 60 days out that he has a gigantic problem with women voters, he is just trying to throw something together and that is what that policy looked like," Schriock, who's organization has already endorsed Democrat Hillary Clinton for president, told Bloomberg Politics' "Masters in Politics" podcast. "Something that he had just thrown together. The child care policy would really do nothing to help those who need access to affordable child care, and it is really a ploy to try and say 'hey, I'm looking out for you', but the truth is that is not the case."
Given that the stated mission of Emily's List is to "elect pro-choice Democratic women to office" the criticism of Trump's plan isn't all that surprising, but Schriock also expressed disappointment that his plan did not follow the blueprint laid out by his daughter Ivanka.  
"What I'm saddened by is that Ivanka at the convention laid out a really nice vision for affordable childcare. That is not the policy that they rolled out this week, and the policy that Donald Trump decided to take on is one that is not going to have the effect. I continue to say that I'm ready for Ivanka to switch parties and become a Democrat because [she] sounds like one already.  I am ready to sit down with her at any time to discuss her political future as a Democratic woman."
Also in this episode of the podcast, New York Times columnist Maureen Dowd discusses the worsening tenor of the 2016 presidential race, and what's yet to come. 
"I think the next 55 days is going to be the craziest and the meanest slice of politics we've ever seen," Dowd said. 
Before it's here, it's on the Bloomberg Terminal.
LEARN MORE