Sports
Go Bike Riding With Designer Paul Smith
The British style icon has been a bicycling obsessive for over 55 years.
By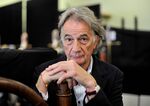 When Paul Smith was 15, his father asked what he wanted to be when he grew up. "I said a racing cyclist," says the fashion designer, now 70. A crash at age 17 ended that dream, but he still bikes daily to his London office and on weekends in Tuscany. He also has a new book, Paul Smith's Cycling Scrapbook (Thames & Hudson). Here, he gives his best cycling advice.

"When buying a bike, the main thing is knowing the reason. Are you doing a lot of miles on the weekend or just going from A to B? It's like my clothes advice: Know your age, your body, your lifestyle, and then you can focus on what works for you. I ride a fixed-wheel steel Mercian."
"My biggest pet peeve these days is when cyclists use their phone. And any rider will tell you that a quick turn or swerve is highly dangerous. The main thing, though, is trucks turning left—or right, in your case. If you can't see their mirrors, they can't see you."
"I'm embarrassed to wear Lycra, so I just wear my own A Suit To Travel In. But there's nothing wrong about what you want to wear. Life has become so self-conscious and full of advice about what you should or shouldn't do—but we're human beings, and we have our own independence."
"Most of my cycling is in Tuscany. I live in the country near the town of Lucca—and Viareggio, on the west coast, is one of my favorites. You can put the bike in the back of a car and go up and down the coast. The only disadvantage is if it's windy, and then you turn around and find a headwind."
"Experts say you're not supposed to have too much caffeine or fatty food, but an espresso isn't going to do any harm. On the coast, the riders are all having an espresso. [Fausto] Coppi used to drink 14 espressos before riding. Back then, that was the equivalent of drug-taking."
Before it's here, it's on the Bloomberg Terminal.
LEARN MORE