Argentine, Brazil Stocks Best Latin American Bet, JPMorgan Says
By and
Bank sees about 10 equity deals out of Argentina in 2017

Brazil capital markets issuance to pick up October or November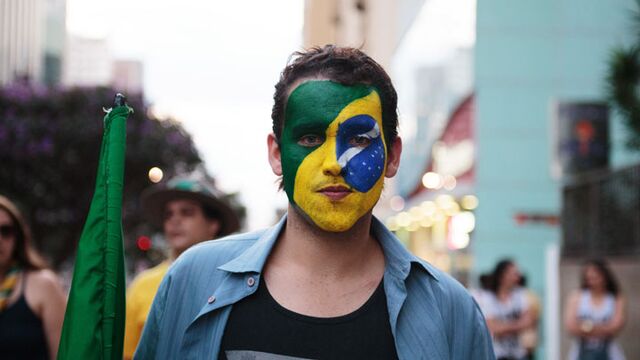 Argentina and Brazil equity markets offer the best opportunities for investors in Latin America as new governments promise policies that will drive growth, according to JPMorgan Chase & Co.
Stocks in South America's two largest economies are poised to pick up as the countries go through structural changes, according to Martin Marron, the chief executive officer for the bank in Latin America and Canada. In Argentina, the government of President Mauricio Macri is luring investors with promises of normalizing the economy after years of state intervention, while share and bond sales are likely to resume in Brazil amid expectations the economy will recover. 
"The next best opportunity in Latin America are Argentina and Brazil equities," Marron said. "Bond yields have already compressed a fair amount in Argentina, so for those who want to go beyond the debt market, private equity is going to be big, especially at this point when the equity market is still quite illiquid."

The bank expects about 10 initial share sales or secondary stock offerings out of Argentina in 2017. Brazil's equity and debt markets are expected to pick up in October or November of this year, with Brazil likely to be the biggest debt issuer in the final months of 2016, Marron said.
Argentina's issuance, which has reached $30 billion this year including provincial and corporate debt sales, will remain strong in the year ahead. The majority of companies issuing debt so far are doing so to refinance existing bonds, but they may start selling notes to expand operations as soon as 2017.
"As Brazil recovers, Argentine companies will need to expand their plants to meet rising demand," said Facundo Gomez Minujin, the head of the bank's Argentina unit. "We expect Argentine companies to have greater debt needs."
While Argentina has become an emerging-market darling after resolving a dispute with hedge funds over its 2001 default, investors looking out 20 to 30 years want additional signs that the macroeconomic situation will stabilize and inflation -- 47 percent a year in Buenos Aires -- will moderate, Marron added. Investors will also keep an eye on midterm elections next fall as an indication of whether Macri's reforms will continue and endure.
Brazil's prospects have also improved since Dilma Roussef's impeachment and Michel Temer's confirmation in office. The bank has revised its forecasts and now sees Brazil's economy shrinking 3 percent this year and expanding 1.4 percent in 2017. That compares with a previous estimate of a 3.6 percent contraction and 0.7 percent expansion.
"The economic in situation in Brazil reached a floor and the recession is nearing its end," Marron said.