Photographer: Mario Proenca/Bloomberg
$36 Rent From Century-Old Freeze Makes Lisbon Landlords Cry Foul
By
Property brokers warn of negative impact on real estate sector

Government sees rent limits protecting small number of tenants
Joao Anastacio is fed up with collecting rents as paltry as 32 euros ($36) a month on some of his Lisbon properties.
But that's what he may have to do as the Portuguese government seeks to extend for five more years a century-old rent-control rule that was set to expire in 2017. The government would be going back on a key reform by the previous administration that was included in the country's 78 billion-euro aid package from the European Union and International Monetary Fund in 2011.
For Anastacio, like thousands of other Portuguese landlords, the decision means they can't raise rents above a certain level until at least 2022, forced to sit out a real estate boom that has pushed leasing and property prices to record highs. The move may also dry up real estate investments that helped bolster the southern European nation's economy.
"It's extremely frustrating," Anastacio said in an interview. "If the state wants to help tenants who can't afford to pay a fair rent, then it should provide them with subsidies instead of forcing landlords to act as the benefactors of humanity."
The Lisbon Property Owners' Association estimates that as many as 255,000 leases are still subject to controls, many of which may qualify for the new five-year extension. While limits on rents are common in Europe -- Berlin recently approved rules to cap rents -- the controls in Portugal are some of the oldest and strictest in the EU, the owners' association said. Some tenants hold contracts that have barely budged after being passed down from one generation to the next.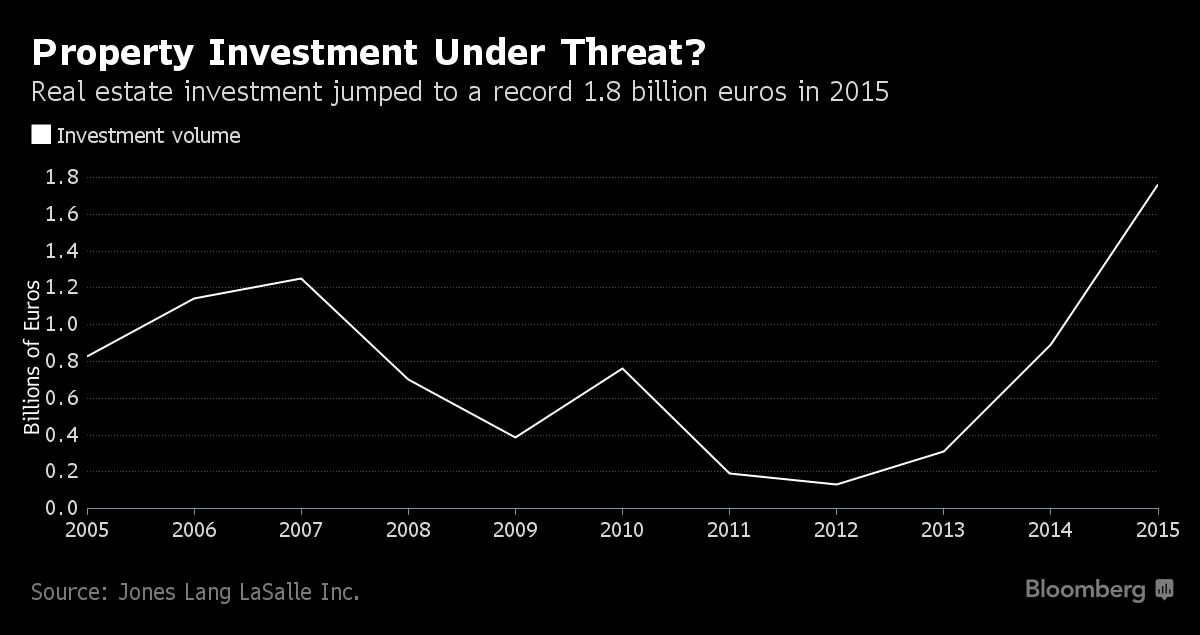 The extension of rent limits will delay a reform by the center-right government in 2012 aimed at increasing the supply of properties on the market, attracting investment and encouraging landlords to renovate buildings that were falling apart because they didn't earn enough rental income.
Rebuilding Cities
The reform, along with incentives such as resident permits offered to non-European real estate investors, helped spur a property boom. Foreign investors accounted for most of the record 1.8 billion euros invested in the country's real estate last year, double the amount for 2014, according to real estate broker JLL.
"The 2012 law was the best thing that happened to the real estate sector in Portugal in the last few years and helped attract investment to rebuild our cities," said Pedro Lancastre, managing director of JLL in Portugal. "Setbacks of this type on laws that have benefited the sector so much don't give any confidence to investors who are renovating our cities."
Anastacio's two-bedroom apartment in Principe Real, one of Lisbon's most expensive quarters, is a case in point. His 92-year-old tenant Isabel Pratas pays 32 euros a month for it and barely leaves the building because she is afraid to fall on the way down the narrow wooden stairway from the second floor apartment where she's lived for more than 70 years. Anastacio, who owns the five-storey building, has had no incentive to fix up the apartment that doesn't even have a bathroom.
Investment Wanted
He charges a monthly rent of 500 euros for a similar apartment on the first floor of the same building, which is not subject to rent control.
"It doesn't make any sense," he said.
While Portugal's Socialist government has increased some taxes as it aims to narrow its budget deficit to less than 3 percent of gross domestic product in 2016, the country also needs to attract foreign investment to lift growth. More than two years after exiting its bailout, unemployment is still at 10.8 percent and GDP is growing less than 1 percent.
The government is currently working on a new tax for owners holding real estate assets with a combined value exceeding 500,000 euros, Mariana Mortagua, a member of the Left Bloc party that currently backs the Socialist government in parliament, said on Thursday. Last month, Portugal also approved changes to the council tax, which may increase charges paid by homes with a view and greater sun exposure. 
Protecting Tenants

The government says the new rental law is aimed at protecting tenants older than 65 or those who are disabled. The changes, which the government expects will be approved in parliament in the next two months, will also protect commercial tenants with businesses that have a historic or cultural interest from being charged higher rents, Deputy Minister for the Environment Jose Mendes said, shrugging off any suggestion the rules will hit investment.
"The idea that real estate investment in Portugal will freeze because of this measure doesn't make any sense," he said in an interview. "The state is just protecting a small segment of tenants that are in a more fragile situation."
Still, the number of landlords who may be stuck until at least 2022 with old contracts that have suffered minimal increases for decades may be "huge," said Luis Menezes Leitao, president of the Lisbon Property Owners' Association. The group, which has about 10,000 members, estimates there are at least 50,000 tenants who will immediately benefit from caps on rents, without taking into account the number of businesses that will qualify for the extension by being of historic or cultural interest.
"This measure is totally counterproductive and comes at a time when Portugal should be strongly promoting the housing market, which suffers from lack of supply and renovation work," said Jose Luis Pinto Basto, chief executive officer of Lisbon-based real estate holding company Edge Properties. "Who will be interested in buying properties to rent in this abusive setting?"