Goodhart Says BOE May Wait Until 2017 to Act Again on Stimulus
by and
Former Bank of England official speaks on Bloomberg TV

Says element missing until government sets out spending plans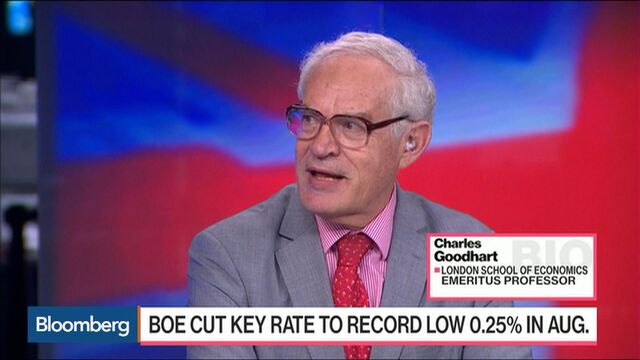 The Bank of England may choose to keep policy unchanged until next year as a lack of clarity on the U.K. government's fiscal plans obscures its outlook, according to former policy maker Charles Goodhart.
"People are talking about them moving again in November," Goodhart said in an interview with Francine Lacqua on Bloomberg Television. "But it's clear that policy is shifting from monetary to fiscal. It's going to be fiscal policy driving the economy. And they are not going to know when they next meet in November" what the government's plans are, he said.
While the BOE is due to update its economic forecasts alongside its policy decision on Nov. 3, Chancellor of the Exchequer Philip Hammond won't set out his spending plans until Nov. 23. The central bank is forecast to keep its benchmark unchanged at 0.25 percent and its asset-purchase target at 435 billion pounds ($573 billion) when it announces its latest decision on Thursday.
At the November meeting, a "key element of policy will be unknown," Goodhart said. "There are a lot of people who are saying the next date they're going to do anything -- and who knows which way -- will be February."
Governor Mark Carney presented a new package of stimulus last month in response to the Brexit vote, and indicated officials could cut rates again before the end of the year. While that suggested a potential loosening in November, the economy is showing some signs of strength and policy makers now need to assess whether to change strategy.
While Prime Minister Theresa May has said "Brexit means Brexit," details of the government's goals in establishing a new relationship with Europe remain elusive, and the U.K. has yet to start formal talks with leaders on the continent. Speaking in a separate interview on Bloomberg Television, former BOE deputy governor John Gieve said that May's negotiations with Europe will also be key to the outlook.
"I don't think she can jump-start" the economy, Gieve said. "What she can do is to clarify as soon as possible where she thinks the government's taking us, and what Brexit is going to mean in practice."
Asked what he would be doing if he were still on the Monetary Policy Committee now, Goodhart said: "Nothing. You could knock me over with a feather if they do anything today."
"They did as much as they could last time," Goodhart said. "Now is the time to sit tight and wait."
Before it's here, it's on the Bloomberg Terminal.
LEARN MORE