Juncker Says Goldman Is Wrong Bank for Barroso to Work For
By and
Goldman's role in crisis makes it problematic, Juncker says

Juncker says no problem with Barroso working in banking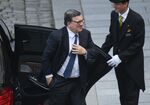 European Commission President Jean-Claude Juncker said his predecessor, Jose Barroso, shouldn't work for Goldman Sachs Group Inc. because the New York-based investment bank helped cause the financial crisis.
The commission has started an ethics investigation into Barroso's job at Goldman Sachs and is seeking clarification on the terms of his contract after European Ombudsman Emily O'Reilly questioned whether it was appropriate for him to take the role less than two years after ending his term as president of the European Union's executive arm.
"Personally, I don't have a problem with him working for a private bank. But maybe not this bank," Juncker said in an interview on YouTube on Thursday. "Goldman Sachs was one of the organizations that knowingly or unknowingly contributed to the enormous financial crisis," he said, adding: "So one does wonder about the particular bank that he has ended up working for."
Goldman Sachs said on July 8 that Barroso, who headed the Brussels-based commission for 10 years until 2014, will serve as non-executive chairman of its international unit and help advise on global issues. His role includes advising Goldman on the U.K.'s exit from the EU.
Bloomberg View: Barroso's Goldman Gig Is None of the EU's Business: Mark Gilbert
French President Francois Hollande in July called Barroso's decision to join the bank "legally possible" but "morally unacceptable," saying Goldman Sachs was implicated in the financial crisis and in helping Greece cover up its debt. European Commissioner Pierre Moscovici, a former French finance minister, said the move was "bad for the image" of the commission.
Following the ombudsman's inquiry, the EU said that Barroso "will be received in the commission not as a former President but as an interest representative."
"When former president Barroso comes here to the commission, he will be received as representative of interests, as a lobbyist really," spokesman Alexander Winterstein said on Monday.
O'Reilly, the ombudsman, said that Barroso's appointment raised concern "given the importance of his former role and the global power, influence and history of the bank with which he is now connected." She also asked whether the commission's Brexit negotiator, Michel Barnier, and other officials would be advised on how or whether to engage with Barroso.
"The commission is now going to be asking the former president to let us have a copy of his contract so that we can look at it and to see what's in it," Winterstein said on Sept. 12. Juncker will "consult our independent ethics committee once that information has been received," he said, adding that this is anticipated "very soon."
European Parliament President Martin Schulz called for the ethics rules to be tightened, saying they are "not precise enough." In an interview with several newspapers this week, Schulz said the EU "should now also adjust the code of conduct in order to clarify better what former European Commission presidents and commissioners are allowed to do."
Before it's here, it's on the Bloomberg Terminal.
LEARN MORE