Volume in the Volatility Market Absolutely Exploded During Tuesday's Rout
By and
Trading in VXX totaled 110 million shares on Tuesday

First time ever it's more popular than Bank of America stock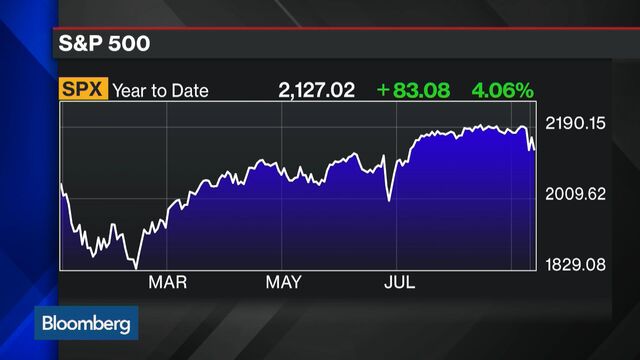 Two investor obsessions, volatility and exchange-traded notes, are being taken to increasingly extreme lengths in the U.S. stock market.
For the first time on record, the iPath S&P 500 VIX Short-Term Futures ETN recorded more volume on Tuesday than any company in the S&P 500 Index, with a record 110 million shares changing hands. The closest was Bank of America Corp., with 89.3 million shares trading. The note fell 0.5 percent Wednesday, trimming a rout that topped 5 percent as the S&P 500 Index erased gains.

Anyone owning the VXX is speculating on an increase in turbulence in American equities and that's a bet that worked as concerns about Federal Reserve policy broke a two-month stretch of calm over the last three days. The near-impossibility of timing such eruptions has rarely been a hindrance to the ETN's loyalists, who have pushed shares outstanding in the security up 11-fold this year even as it fell on 64 percent of days.
"The herd mentality is leading investors to what seems popular," Channing Smith, a managing director at Capital Advisors Inc. in Tulsa, Oklahoma, said by phone. The firm oversees about $1.7 billion. "People have talked about how we're due for this selloff, whether or not that's justified, they see opportunities in making quick bucks."
Volatility-linked securities accounted for three out of the top 10 most-traded exchange-traded products on Tuesday as the S&P 500 suffered its second decline of more than 1.4 percent in three days, a resurfacing of volatility that ranks with the most violent on record. The CBOE Volatility Index surged 18 percent after falling 13 percent a day earlier and rising 40 percent on Friday.
U.S. stocks slipped Wednesday, wiping out gains in afternoon trading. Energy shares sank with the price of oil, overshadowing a rally in Apple Inc. amid lingering concern that the rout that's wiped some $2 trillion off the value of global shares in the past week isn't over. The stock benchmark fell 0.1 percent to 2,125.77 at 4 p.m. in New York. The Nasdaq 100 Index rose 0.5 percent.
Apple climbed to the highest since April amid positive sentiment on the latest version of its iPhone. Oil and gas producers tumbled 1.2 percent as stockpiles data sent crude below $44 a barrel. About 7.1 billion shares traded hands on U.S. exchanges, 4 percent above the three-month average.
Demand for the iPath VIX ETN, known as by its ticker VXX, has been so great that inflows have almost tripled its market value in 2016, even as its underlying index has plunged 49 percent. At $2 billion, it's only 5 percent the size of the average company in the S&P 500, but its trading Tuesday was 22 times the average of individual stocks.
Among ETPs, VXX ranked the third-most active yesterday after SPDR S&P 500 ETF Trust and iShares MSCI Emerging Markets ETF. Two other volatility-related products, ProShares Ultra VIX Short-Term Futures and VelocityShares Daily Inverse VIX Short-Term ETN saw their volume exceed 55 million, placing them in the top 10 list.
"A lot of it is hedging as well," George Maris, a portfolio manager at Janus Capital in Denver, Colorado, said in an interview. 'It's people saying they know in their heart of hearts that a VIX in the low teens was just way too low -- it's not reflective of the new risks that are out there."
In Wednesday's trading, the VIX rose 1.6 percent, reversing an 8 percent drop, to hold at the highest since June 28. The Dow Jones Industrial Average lost 31.98 points, or 0.2 percent, to 18,034.77. The S&P 500 extended its retreat from an Aug. 15 all-time high to 2.9 percent. Nearly all of the decline came in the past week, led by raw-materials producers, consumer-staples and phone companies. The gauge trades at 18.1 times estimated earnings, the highest since 2009.
Among shares moving on corporate news, Monsanto Co. advanced as much as 1.6 percent before closing 0.6 percent higher, after agreeing to be bought by Bayer AG in a deal valued at $66 billion. The pact capped four months of talks to create the world's biggest supplier of seeds and pesticides.
Sarepta Therapeutics Inc. soared 27 percent to an eight-month high, pacing gains among biotech companies. A U.S. Food and Drug Administration reviewer who was critical of the drugmaker's proposed treatment for a lethal muscle disease left the agency, potentially brightening prospects for approval of the medicine.