Unilever Chief Says Brands Can Profit Despite Global Turmoil
By and
After Brexit, time for politicians to 'cool down': Polman

Marketing giant stays course with focus on social issues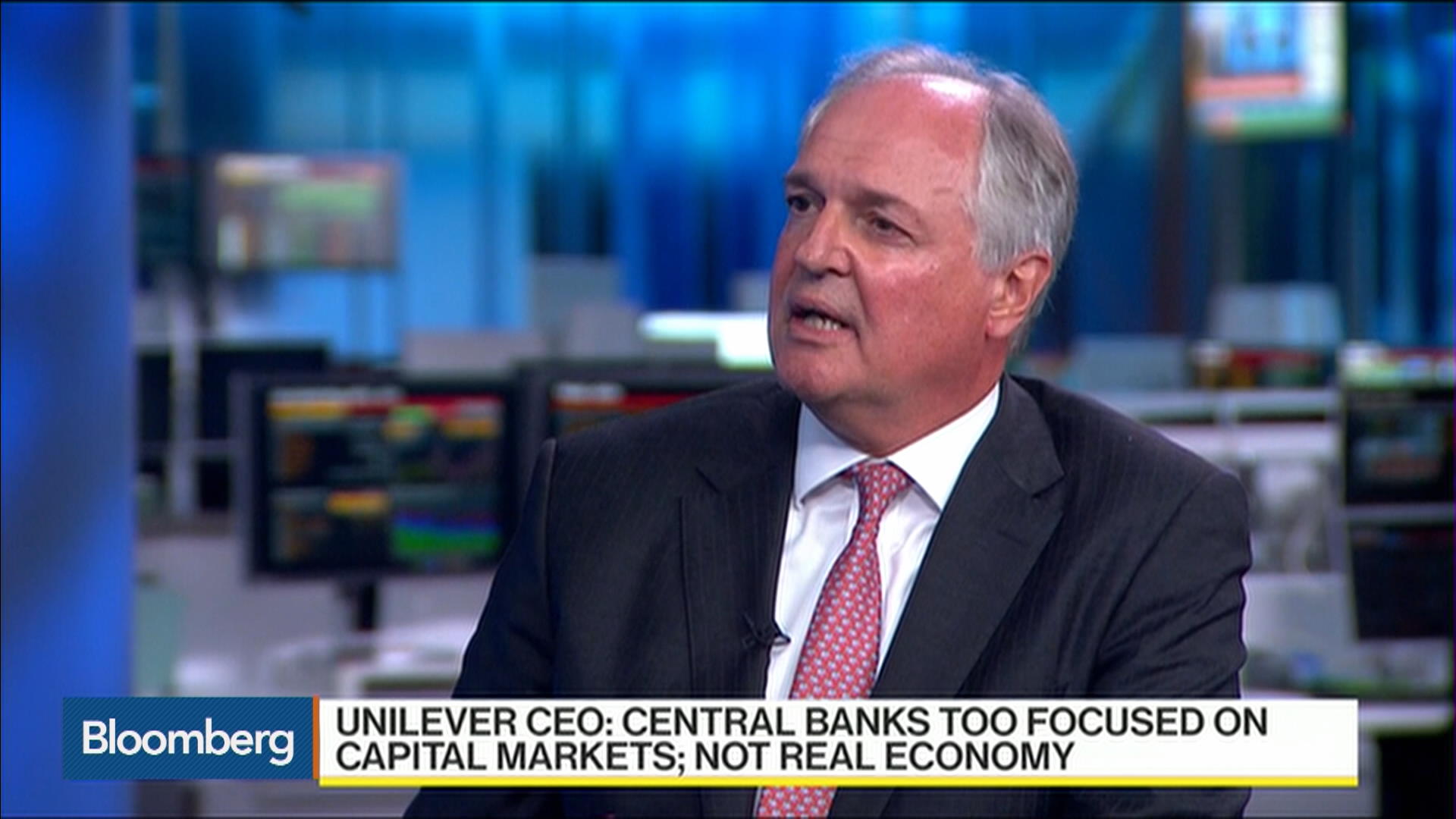 Even as Brexit, a contentious U.S. presidential race and turmoil in emerging markets highlight a sense of fear among electorates, Unilever chief Paul Polman says consumers and investors are increasingly attracted to brands that address social issues in a positive way.
The U.K.'s vote to leave the European Union mirrors support for Donald Trump's U.S. presidential candidacy in that both represent people "running away from something" rather than supporting a particular policy or issue, Polman said in an interview in London. Political upheaval in Brazil, another key market for consumer-goods companies like Unilever, has added to marketers' concerns.
To watch a clip of Polman's interview with Bloomberg, click here.
Brexit is manageable and the Bank of England's rate cut last month has limited potential economic fallout, Polman said. Despite the uncertainty, Prime Minister Theresa May shouldn't rush to trigger exit talks, he added.

"Uncertainty doesn't help us, but at the same time, buying some time and waiting for the U.K. to start the [Brexit] process is actually better,"  Polman, 60, said, as it allows time for politicians to "cool down."
While Brexit and the U.S. election campaign have fed political cynicism and populist rhetoric, Polman said consumers and investors are more attuned to corporate social responsibility, the signature issue of his eight-year tenure at the maker of Dove soaps and Ben & Jerry's ice cream. Brands like Dove that address societal or environmental problems have grown 30 percent faster than the rest of Unilever's business, which spans 190 countries and generated 53 billion euros ($59 billion) in sales last year, the company says.
Such growth has assuaged skeptical investors who used to prefer that CEOs battle industry rivals, not climate change. BlackRock CEO Larry Fink has asked investors to focus more on the "real and quantifiable financial impacts" of environmental and social factors like reducing carbon emissions and increasing diversity. Ethical investing has grown to encompass 30 percent of assets under management, or more than $21 trillion, according to the Global Sustainable Investment Alliance.
'We Care'
"If you ask the investor community how much they care about environmental, social and governance issues, they will say we care a lot about it, because they see that Volkswagen wipes off 40 percent of its market cap, they see BP, they see Sports Direct," he said, referring to emissions-test cheating at Volkswagen AG, BP Plc's Gulf of Mexico oil spill in 2010 and concerns over working practices at U.K. retailer Sports Direct International Plc.
Aside from sustainability, Polman has new opportunities and old challenges on his plate. In July he paid about $1 billion for mail-order razor company Dollar Shave Club, with the hope that Unilever can expand it beyond the U.S. and apply its direct-to-consumer subscription model to premium brands like Dermalogica skin care.
Asked why he didn't buy Dollar Shave earlier for a lower price, Polman said the business was not sufficiently developed. By waiting until Dollar Shave had more than $100 million in sales, "you ensure that what you buy has a higher probability to succeed," he said.
Unilever's spreads business, which includes Flora margarine and was set apart as a standalone subsidiary in 2014, continues to struggle. Polman put a new executive in charge of it in January and has said he'll look at all options if it fails to revive this year. Any change in ownership would have to deliver value for shareholders and result in a better-run business, Polman said.
"You could give it away and destroy shareholder value, or you can make the most of it," he said. "And if you can make the most of it and convince yourself that there is someone else out there that can do it better than we do, you have to give them that opportunity. But, if you sit on a declining business, that in itself is not a reason to jump ship."
Skippy, Ragu
Polman has jettisoned brands like Skippy peanut butter and Ragu pasta sauce that have failed to appeal to many consumers in the emerging markets that account for 58 percent of Unilever revenue.
The Dutch executive wants to focus on brands that can create online communities highlighting social issues that interest millennial shoppers. In the U.S., those consumers spend a collective $600 billion annually, according to professional-services company Accenture.
Dove, for example, has worked to improve young women's self-esteem by discussing conceptions of beauty, while Lifebuoy soap has sought to raise awareness of the importance of hand-washing. Companies that can't or won't address issues like climate change are struggling, Polman said.
"Brands that have a stronger purpose are the brands that do better," he said.
Full Interview: Brands Can Profit Despite Global Turmoil