business
U.S. Stocks Advance, Stabilizing Amid Gains in Apple, Drugmakers
By and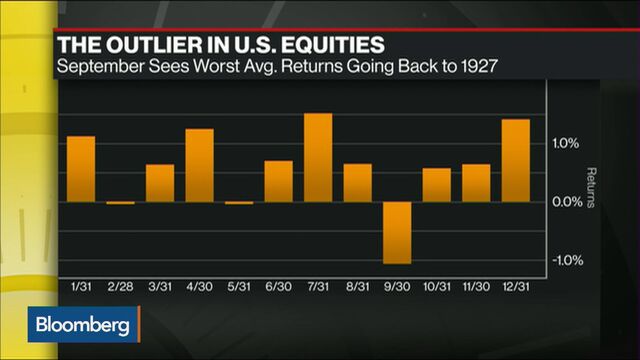 U.S. stocks rose from two-month lows, led by gains in Apple Inc. and drugmakers as equities showed signs of stabilizing after three days of renewed volatility.
Apple climbed to a five-month high amid positive sentiment on the latest version of its iPhone, while a rally in biotechnology stocks lifted the health-care group. Oil and gas companies were little changed, erasing an early drop even as crude futures retreated 1.1 percent before a weekly report on stockpiles.
The S&P 500 Index advanced 0.5 percent to 2,137.76 at 10:24 a.m. in New York. The gauge lost 1.5 percent on Tuesday, its third consecutive swing of at least 1 percent after going 43 sessions without one in a period of near-unparalleled calm. The Dow Jones Industrial Average added 75.74 points, or 0.4 percent, to 18,142.49. The Nasdaq Composite Index increased 0.8 percent.
"We've seen the market react like this three times in the past year and every time it always snaps back," said Ron Anari, the Jersey City, New Jersey-based senior vice president of trading at ICAP Plc. "Someone at the Fed talks and the market reacts. Granted we're not dealing with five or six percent GDP, but it doesn't look like we're going into recession either. A December hike could still definitely be on the table but we can't live in zero interest-rate environment forever."
U.S. shares are in the midst of their most volatile stretch since Britain voted in June to quit the European Union, with stocks and bonds moving in tandem as investors question whether central banks still have ammunition to promote growth. The CBOE Volatility Index fell 5.2 percent from a two-month high after surging 50 percent over the prior four sessions.

Investors will be assessing the health of the economy as they weigh the probability of a Federal Reserve interest-rate increase amid mixed indications from policy makers. Data are due tomorrow on retail sales, producer prices and industrial production.
Shares tumbled Friday after Boston Fed President Eric Rosengren said it was dangerous to wait too long to raise borrowing costs, before rebounding Monday amid dovish comments by Fed Governor Lael Brainard. European Central Bank President Mario Draghi had put investors on edge last Thursday after he downplayed the need for more measures to boost growth. Traders are pricing in a 20 percent chance of a Fed hike on Sept. 21, while odds for a December move are 54 percent.
The S&P 500 is down 2.5 percent from a record set on Aug. 15. Nearly all of the decline has come in the past week, led by raw-materials producers, consumer-staples and phone companies. The benchmark pared its gain this year to 4.4 percent after rising as much as 7.2 percent.
Before it's here, it's on the Bloomberg Terminal.
LEARN MORE