U.S. ELECTION WRAP: Clinton's Poll Trend Echoing Brexit's 'Remain'
Hillary Clinton enjoyed polling averages nationally in August. But in September, she's struggled, and polls suggest that more Republican voters may be unifying around Trump.
By and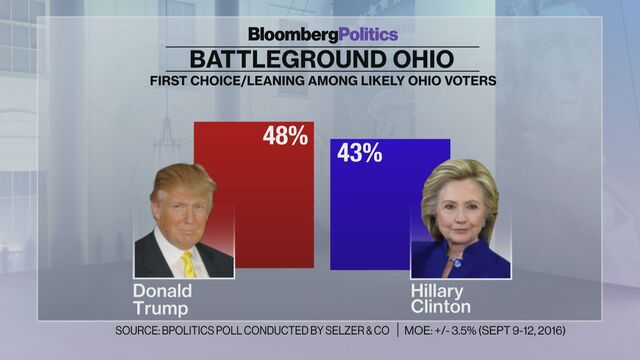 Hillary Clinton trailing Donald Trump by 5 ppts in Bloomberg's Ohio poll was a shocker, so much so that it shook the Mexican Peso. What it wasn't, however, was an outlier.
Elections analyst Nate Silver—who has upped Trump's odds of winning to 34.4% in his FiveThirtyEight site's polls-only forecast—says on Twitter he sees "echoes of Brexit here"
"Clinton's narrowing lead over Trump is a lot like Remain's over Leave at this point" in UK's vote on departing the European Union
"That's NOT to predict Trump will finish well (as Leave did). But I see people making excuses to treat a clear possibility as a remote one"
Bloomberg's Ohio poll was a blow to Clinton after she enjoyed polling advantages nationally and in most battleground states—including Ohio—during much of August before a September in which she has struggled and more Republican voters may be unifying around Trump
Mexico's peso weakened and the country's stocks fell after the poll in Ohio, a state that has backed the winning presidential candidate in every election since 1964
Kyle Kondik, analyst at Sabato's Crystal Ball and author of a book on Ohio's presidential voting, notes divergence in likely voter party ID from other surveys and says Democratic enthusiasm "may stink right now" and affect response rates
He says that the question is if enthusiasm gap continues for Clinton through election; "If so, very bad for HRC"

POLLS POLLS MORE POLLS
Nevada: Trump at 44%, Clinton 42% among likely voters in Monmouth University Poll, a change from its July survey when Clinton had a 4-ppt edge
Maine: Colby College/SurveyUSA poll shows Clinton up just 3 ppts in Maine, which has gone for Democrats in every presidential election since 1992
Trump is in position to win at least 1 electoral vote in Maine, which awards 2 to the statewide winner and 1 each to the winner of its two congressional districts
In 2nd district, Trump up 10 ppts in 4-way race
National polls: LA Times/USC tracking poll has Trump up 5 ppts, Reuters/Ipsos has Clinton up 1
Best survey today for Clinton was Quinnipiac University Poll, which shows her up 48%-43% in two-way race, yet even there that lead was cut in half from an August 25 survey of likely voters
In 4-candidate race, it's Clinton 41%, Trump 39%; in Aug. poll, she led by 7 ppts
Quinnipiac poll also finds most voters plan to cast ballots against, not for, a candidate
Weekly Standard's John McCormack: "Give Trump all states where he's had any lead in some new polls, he still needs 1 more" to reach the 270 electoral votes needed for victory
"CO, NH, WI, PA, or VA?" asks McCormack
McCormack's map—which assumes Trump wins every state where a recent survey shows him even marginally ahead—gives Clinton a slight edge at 272 electoral votes to 266 for Trump

ON THE TRAIL
Clinton, who stepped back from campaigning this week while recovering from pneumonia, will be back on the trial tomorrow, Bill Clinton says in Las Vegas
Trump taped an hour-long appearance on the Dr. Oz Show that'll air tomorrow, discussing his personal health
Trump, 70, got generally good bill of health from Dr. Mehmet Oz—who did not examine the candidate, but reviewed a letter detailing lab results from a physical exam last week—according to attendees interviewed ahead of the show's airing, though the candidate said he doesn't get to play golf and exercise as much as he'd like, and hoped to lose 15 to 20 pounds
Trump also visited Flint, Michigan, where he spoke at a black church and decried Ford's plan to move small-car production out of the U.S. to Mexico
"We shouldn't allow it to happen," Trump said
"They'll make their cars, they'll employ thousands and thousands of people not from this country," Trump says in remarks there; 

"And they'll sell the cars right through a very weak border"; 

"No tax, no nothing, and we'll have nothing but more unemployment in Flint and in Michigan"
Trump also interrupted during speech, as some black community members shouted questions that he refused to answer.
Rev. Faith Green Timmons stopped Trump, saying, "Mr. Trump, I invited you here to thank us for what we've done in Flint, not to give a political speech"
Trump said "OK" and was then interrupted by others in the audience of about 70 people
Trump continued, saying Flint's pain was caused by many factors and spoke about a minute longer before leaving the stage
Clinton will meet next week with Egyptian President Abdel- Fattah El-Sisi and Ukrainian President Petro Poroshenko during bilateral meetings at the UN General Assembly, according to a campaign aide

BALLOT ACCESS
Libertarian Gary Johnson says he'll be on the ballot in all 50 states: WSJ
Green Party's Jill Stein failed to qualify for ballot in North Carolina, Nevada, and Georgia, which could boost Clinton in those states: National Journal

CONGRESSIONAL ELECTIONS
GUINTA SURVIVES
Rep. Frank Guinta, who was found to have violated finance laws in a previous campaign, defeated four challengers to win the GOP primary in New Hampshire's 1st House district.
Rich Ashooh said in concession that despite close contest he was dropping out to aid Republican chances in Nov. election, AP reports
NOTE: Guinta's win sets up latest chapter in ongoing N.H. political saga -- he'll face Democrat Carol Shea-Porter, who he ousted from House in 2010, lost to in 2012 rematch, then defeated again in 2014
Shea-Porter ran unopposed in Democratic primary
Guinta had been seen as vulnerable in primary after FEC last year found that in 2010 campaign, Guinta violated law by accepting $355k loan from account owned by his parents; Guinta paid $15,000 fine and agreed to repay that amount to parents in settlement with commission
SENATE RACES (Republicans hold 54-46 majority)
FL: Senate Majority PAC, Democratic super-PAC aiding Rep. Patrick Murphy, aired TV ad attacking GOP Sen. Marco Rubio on Medicare and Social Security
Ad cites Rubio's Aug. 2011 speech to Reagan Library in which he said "these programs actually weakened us as a people"; Rubio just before referred to "series of government programs" without specifically mentioning Medicare or Social Security
Rubio said later in speech "as important as" Medicare and Social Security are, to ensure their solvency "we must accept and begin to make changes to those programs now, for us"
About 21% of Fla. residents receive Social Security benefits, 20% are Medicare beneficiaries, according to Census Bureau and Kaiser Family Foundation
IL: Democratic Rep. Tammy Duckworth's campaign in TV ad touches on biographical details, including her being waitress in college and her severe wounding as Army helicopter pilot in Iraq
Also notes her support for Obama's agenda, protections against Medicare cuts and job outsourcing
Republican Sen. Mark Kirk speaks Spanish in TV ad that notes his opposition to Trump, his support for securing federal money to combat violent gangs in Chicago
IN: Democratic ex-Sen. Evan Bayh would ban lawmakers from collecting pay during government shutdowns or budget stalemates, he told the Associated Press
Speaker Paul Ryan will raise campaign funds for GOP Rep. Todd Young Sept. 16 in Fort Wayne, following two campaign stops for him earlier in week by former President George W. Bush, according to Young campaign release
Bayh and Young seek seat Bayh held from 1999-2011 and is now held by Republican Dan Coats, who's not seeking re- election
MA: Former Boston Red Sox pitcher Curt Schilling, who is considering running as a Republican against Sen. Elizabeth Warren in 2018, would start any such campaign as a decided underdog, according to a WBUR/MassINC poll that shows Warren with a 54%-29% lead in a hypothetical head-to-head
NH: Women Vote!, super-PAC arm of Democratic group Emily's List, aired TV ad linking GOP Sen. Kelly Ayotte to Trump, focusing on the pair's opposition to abortion rights, Planned Parenthood funding
Ayotte says federal money to Planned Parenthood should be redirected to community health clinics
Ayotte facing Democratic Gov. Maggie Hassan after winning GOP primary yday with 79% of vote, according to AP
NV: GOP Rep. Joe Heck has 46% support compared with 43% for Democratic ex-state Atty. Gen. Catherine Cortez Masto, according to Monmouth University poll of likely voters Sept. 11-13
Heck, Cortez Masto vying to succeed Minority Leader Harry Reid in only competitive Senate race where Democrats are defending party
OH: Republican Sen. Rob Portman leads Democratic ex-Gov. Ted Strickland 53%-36%, according to Bloomberg Politics poll
About 20% of Clinton's backers support Portman, while 9% of Trump supporters are for Strickland, according to survey
HOUSE RACES (Republicans hold 246-186 majority)
DE-At Large: Democratic nominee Lisa Blunt Rochester, state's former labor secretary, would become first black woman to represent state in Congress if she wins Nov. 8 general election
Blunt Rochester, who won six-way primary yday with 44%, favored to win Democratic-leaning statewide district over Republican Hans Reigle
NOTE: Delaware, Mississippi, Vermont only states that have never sent woman to either House or Senate
FL-26: Democratic ex-Rep. Joe Garcia apologized for saying Clinton is "under no illusions that you want to have sex with her, or that she's going to seduce you, or out-think you," Miami Herald reported
Garcia, whose comments to political supporters were secretly recorded by a tracker, also said Clinton is "extremely, exceedingly competent" and will be "very similar to Lyndon Johnson"
Garcia opposing one-term Republican Carlos Curbelo in rematch of close 2014 race; district includes part of Miami-Dade County and all of Monroe County and became slightly more Democratic-leaning in court-ordered redistricting
ME-01: Democratic Rep. Chellie Pingree leads Republican challenger Mark Holbrook by 20 ppts, according to Colby College/Survey USA poll
ME-02: In same poll, GOP Rep. Bruce Poliquin ahead of Democrat Emily Cain by 5 ppts
NH-01: Democratic ex-Rep. Carol Shea-Porter attacked Republican Rep. Frank Guinta's "constant deception" and "brazen lies," AP reported
Guinta edged businessman Rich Ashooh in primary yday despite campaign finance scandal that surfaced last year; Guinta and Shea-Porter opponents in fourth straight election after he won in 2010 and 2014 and she prevailed in 2012
Related: Rep. Guinta Survives Challenge in N.H.'s Republican Primary: AP
NV-04: Democratic state Sen. Ruben Kihuen's first general- election TV ad attacks Rep. Cresent Hardy and other congressional Republicans on education policy, linking Hardy to Speaker Paul Ryan, Texas Sen. Ted Cruz
"I worked with" GOP Gov. Brian Sandoval "to invest in education by making corporations pay their fair share," Kihuen said, referring to Sandoval proposal that raised taxes to fund education improvements
NY-19: Congressional Leadership Fund, Republican super-PAC, in TV ad referred to Democrat Zephyr Teachout as "just another New York City politician," linked her to NYC Democratic Mayor Bill de Blasio
Teachout, law professor at Fordham University in NYC, running against Republican John Faso for central Hudson Valley district of GOP Rep. Chris Gibson, who isn't seeking re-election
NY-21: Democrat Mike Derrick's campaign in TV ad said GOP Rep. Elise Stefanik takes campaign funds from Wall Street and "pays them back by fast-tracking their corrupt trade deals, while our factories shut down"
Ad refers to Stefanik's June 2015 vote for trade promotion authority, which sets process for congressional consideration of trade agreements such as Trans-Pacific Partnership
Stefanik said last month she opposes TPP in current form
Northeastern N.Y. district voted 52%-46% for Obama in 2012; Stefanik, at 30 in 2014, won by 21 ppts to become youngest woman ever elected to Congress
PA-16: Smucker Victory Committee will raise money for National Republican Congressional Cmte and GOP state Sen. Lloyd Smucker's campaign, according to FEC filing
Democrat Christina Hartman endorsed this week by Emily's List, which funds Democratic women who support abortion rights
Republican Rep. Joe Pitts retiring from mildly GOP- leaning southeastern district that includes Reading, Lancaster
Before it's here, it's on the Bloomberg Terminal.
LEARN MORE