business
U.K. Won't Pull Up 'Drawbridge' After Brexit Vote, Duncan Says
By
State Minister Duncan says leaders will seek new trade deals

Britain will be more outward facing than before, Duncan says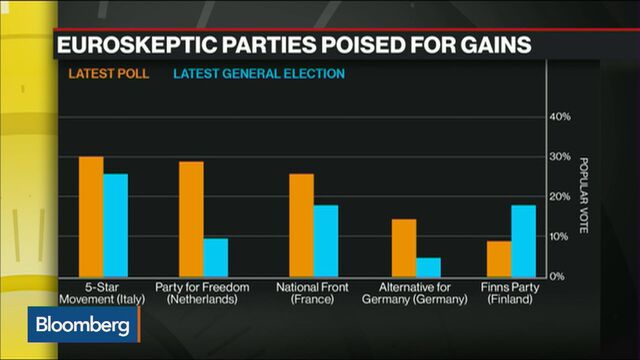 The U.K.'s vote in June to leave the European Union gives the country a chance to seek new trading partners and broaden its global horizons, State Minister Alan Duncan said Wednesday in Washington.
The U.K. will remain an "outward-facing sovereign nation" said Duncan, who as U.K. minister of state for Foreign and Commonwealth Affairs is a deputy to Foreign Secretary Boris Johnson and oversees Britain's relations with the Americas and Europe. He was appointed in July after Theresa May replaced David Cameron as prime minister amid the political tumult that followed the Brexit vote.
"What you will not see is the U.K. pulling up the drawbridge," Duncan told an audience at the Brookings Institution, a research group. "We're not leaving Europe and we're not pulling back from the world."
Duncan's remarks echoed those of his boss, Johnson, the former mayor of London who was a leading campaigner for the exit. Johnson has portrayed the Brexit vote as a chance for a "rebooted, reset, renewed" U.K. to grow its economy and play a more prominent role in world affairs. So far, data suggests the economy has performed better than some feared since the vote, with unemployment falling to an estimated 4.9 percent in July.
In June, when it looked as if Johnson might become prime minister, Duncan mockingly called him "Silvio Borisconi" and said he was unfit to lead the country. A month later, May got the job and chose Johnson as her foreign minister and Duncan as his deputy.
U.S. Trade
Duncan said the U.K. will work out its trade relationship with the U.S. once Brexit is complete and in the meantime will retain its voice in European Union discussions over the Transatlantic Trade and Investment Partnership. He said decisions to open U.K. government offices in the U.S. cities of Raleigh, North Carolina, Minneapolis and San Diego shows the government's commitment to its relationship with its former colony.
"It doesn't mean that we are in any way keen to see it collapse or disintegrate," Duncan said of the EU. "We're not there going 'Ha ha, we've gone, we hope it all crumbles.'"
Duncan spoke hours after European Commission President Jean-Claude Juncker said in a speech that the EU is as relevant now as it was in the 1950s when the project began and warned that populism "does not solve problems -- on the contrary, populism creates problems." It was a clear reference to the sentiments that drove the Brexit outcome.
May is under pressure from critics including European Economic Affairs Commissioner Pierre Moscovici and former U.K. Independence Party Leader Nigel Farage to open formal Brexit talks in early 2017. So far, she has declined to give specifics on her plans to start that process other than to say it won't happen this year.
Duncan made clear there would be no reconsideration of Brexit and invoking Article 50 of the Lisbon Treaty doesn't require a parliamentary vote. He also said he believes the U.K. would stay together even though people in Scotland and Northern Ireland voted overwhelmingly to remain in the union.
"This was a United Kingdom referendum and I don't think the United Kingdom will fall apart," Duncan said.
Sign up to receive the Brexit Bulletin, a daily briefing on the biggest news related to Britain's departure from the EU.
Before it's here, it's on the Bloomberg Terminal.
LEARN MORE