U.K. Approves EDF's £18 Billion Hinkley Point Nuclear Project
by
EDF and Chinese partner ready to proceed with development

Government introduces new measures to ensure security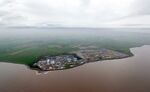 The U.K. government has approved Electricite de France SA's controversial plan to build two nuclear reactors for 18 billion pounds ($24 billion) in southwest England.
QuickTake Britain and France's $24 Billion Nuclear Gamble
Hinkley Point C will proceed under the condition that EDF -- which has a Chinese partner in the project -- won't be able to sell down its controlling stake prior to completion of construction without government approval, the Department for Business, Energy and Industrial Strategy said in a statement Thursday. The much-criticized guaranteed electricity price that underpins the development wasn't changed.
U.K. Prime Minister Theresa May decided to review Hinkley Point at the end of July, casting doubt on a project approved by her predecessor David Cameron as a way of reducing greenhouse gas emissions. The unexpected delay came amid concerns about the scale of potential subsidy for the plants and whether Chinese involvement was a security risk. While EDF says the development is vital for the future of the French nuclear industry, there are still concerns about the financial strain it will place on the utility.
"Britain needs to upgrade its supplies of energy, and we have always been clear that nuclear is an important part of ensuring our future low-carbon energy security," Secretary of State for Business, Energy and Industrial Strategy Greg Clark said in the statement. "Having thoroughly reviewed the proposal for Hinkley Point C, we will introduce a series of measures to enhance security," and therefore decided to proceed, he said.
Vital Project
The approval crowns almost a decade of efforts by EDF to prepare for the replacement of its U.K. nuclear fleet, acquired when it took control of British Energy Plc in 2008. Jean-Bernard Levy, chief executive officer of the state-controlled utility, has said Hinkley Point, which will use the EPR reactor design, is key to ensuring the health of the French nuclear industry and providing work for struggling nuclear group Areva SA. 
"This decision demonstrates confidence in the EPR technology and in the world-renowned expertise of the French nuclear industry," Levy said in a statement Thursday.
To read a QuickTake Q&A on Hinkley Point, click here
The U.K. government will guarantee EDF can sell power generated by the plant at 92.50 pounds a megawatt-hour, more than double current market prices, for as long as 35 years. Nevertheless, the huge upfront cost of the development has provoked internal opposition, with Chief Financial Officer Thomas Piquemal resigning in March saying the plant would strain the utility's finances.
Internal Opposition
EDF's labor unions wanted the U.K. project to be delayed by about three years to benefit from feedback from reactors being built in France, Finland and China. At Flamanville in France, where the utility is building a reactor of the same design proposed for Hinkley Point, costs have more than tripled to 10.5 billion euros ($11.8 billion) and construction is six years behind schedule.
EDF shares fell 0.7 percent to 11.12 euros at 11:56 a.m. Paris time. Rating companies have said a decision to proceed with Hinkley Point will probably trigger a credit downgrade for the company.
Chinese Role
The project also is of strategic importance for China. State-owned China General Nuclear Power Corp., which is due to provide a third of the finance for Hinkley Point, intends to take a minority stake in a similar nuclear reactor at Sizewell, and then a majority holding in another at Bradwell, which will use Chinese technology.
"We are now able to move forward and deliver much needed nuclear capacity at Hinkley Point, Sizewell and Bradwell with our strategic partners EDF," CGN said in a statement. The company said it intends to play "an important role in meeting the U.K.'s future energy needs."
A blog post written last year by Prime Minister May's new chief of staff exposed concerns about U.K. energy security and cast a shadow over British-Chinese relations. Nick Timothy warned the involvement of Chinese partners in the development could allow them to "shut down Britain's energy production at will."
Existing powers plus a new legal framework for investment in critical U.K. infrastructure will mean "the full implications of foreign ownership are scrutinized for the purposes of national security," according to the Department for Business, Energy and Industrial Strategy statement.
Government Intervention
"After Hinkley, the British government will take a special share in all future nuclear new build projects," according to the statement. "This will ensure that significant stakes cannot be sold without the government's knowledge or consent," including EDF's holding in Hinkley, it said.
The plant, which will take almost 10 years to construct, will provide a 9 percent annual return if built on time and on budget, according to Levy. The U.K. National Audit Office estimated in July that consumer-funded top-ups to the price for Hinkley's electricity over the 35-year lifetime may total almost 30 billion pounds.
"In light of a changing energy landscape, the falling cost of renewables, and lower financing costs, we are not convinced that this would be the right decision for the U.K. consumer," Martin Young, an analyst at RBC Capital Markets in London, said in a note Thursday. For EDF, a 9 percent rate of return "is attractive, but will come at the price of multiyear construction risk."
Hinkley Point C will provide 7 percent of Britain's electricity needs for 60 years, the government said. The U.K. has eight power stations with 15 nuclear reactors which generate around 20 percent of electricity in the country, and almost all of these existing plants are due to close by 2030.
Before it's here, it's on the Bloomberg Terminal.
LEARN MORE