Trump Has Hostile Encounter at Black Church in Flint
The Republican's African-American outreach effort draws scrutiny.
By and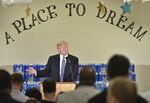 Donald Trump had a tense encounter with some black community members in Flint, Michigan, on Wednesday when he started ripping into Hillary Clinton at a church while on a tour of the city to learn about its water crisis.
"Hillary failed on the economy just like she failed on foreign policy," Trump began to say at Bethel United Methodist Church as he tried to dive into his stump speech about her support of the North American Free Trade Agreement. "Everything she touched didn't work out. Nothing. Now Hillary Clinton..."
That's when he was interrupted by Reverend Faith Green Timmons, pastor of the mostly black church, who told Trump he had not been invited "to give a political speech."
"Oh, oh, OK. OK. That's good," Trump said, without apologizing. "Flint's pain is the result of so many different failures and I must say..."
Just then, a woman in the audience, about 70 years old, yelled a question about alleged discrimination against black tenants at his real-estate properties, charges the federal government has investigated, according to the Washington Post.
"No, I never would. Never would. Never would. Never. And frankly, Time magazine as you know, reported the federal government has a long way to go to bring Flint back..."
More people yelled questions.
The minister asked the audience to stop.
"I brought him here as a guest of my church and you will respect him," she said.
"That's right!" someone in the audience said.
"Amen!" said another.
"Thank you, thank you pastor," Trump said. "And the damage can be corrected. And it can be corrected by people that know what they're doing. Unfortunately for the people that caused this tremendous problem had no clue. They had absolutely no clue."
Trump thanked the congregation and started to leave. "It's an honor to be with you," he said.
Race has been a critical fault line in the presidential race, with Trump stuck in the single digits in polls of black voters, who are turned off by his racially charged rhetoric, his support from white nationalists, and his questioning whether President Barack Obama is a natural-born U.S. citizen. Though Trump has gained in polls in the overall presidential contest, his courting of black and Hispanic voters in recent weeks has so far failed to display meaningful boosts with either demographic.
Jason Miller, a spokesman for Trump, acknowledged the tension during his visit.
"Mr. Trump knew today would be hostile political territory, but he's running to be president for all Americans, and that means being willing to visit with all communities," Miller said in a statement. "Failed policies from politicians like Hillary Clinton have let too many of our communities fall behind, where jobs have left us and families are suffering. Mr. Trump recognizes this and will bring back jobs and revitalize our communities once again."
Attendees weren't done with Trump yet.
Reneta Richard, a Flint Democrat who works as a teacher, followed Trump as he walked out.
"What do you mean African-Americans have nothing to lose?" Richard said she asked him, a reference to a recent speech he gave in Dimondale, Michigan, when he asked blacks to vote for him by saying, "What the hell do you have to lose?"
Trump didn't answer until he paused to take a photo with someone, she said in an interview afterward.
"I said, 'What did you mean when you said that African-Americans have nothing to lose?' He kind of looked over his shoulder and said, 'They have nothing to lose.' I said, 'I am the they,'" Richard said.
Before it's here, it's on the Bloomberg Terminal.
LEARN MORE