Tisch Says Fed Stuck in a Hole Causing 'All Manner of Problems'
By and
Central bankers don't know how to get out of hole, he says

Difficult to invest when 'everything is so picked over'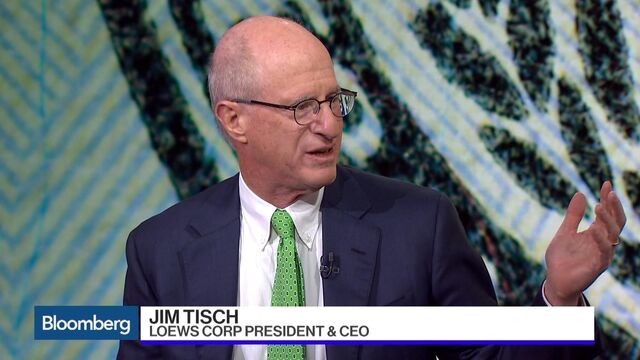 Jim Tisch, the chief executive officer of Loews Corp., said the Federal Reserve has distorted markets by sticking with ultra-low interest rates.
"We have the lowest interest rates in the U.S. and around the world that we've ever had in the past thousands of years," Tisch said Wednesday in an interview on Bloomberg Television. "I promise you, the economy isn't the worst it's been in those past thousands of years. The Fed has gotten themselves into a hole of zero interest rates and they don't know how to get out."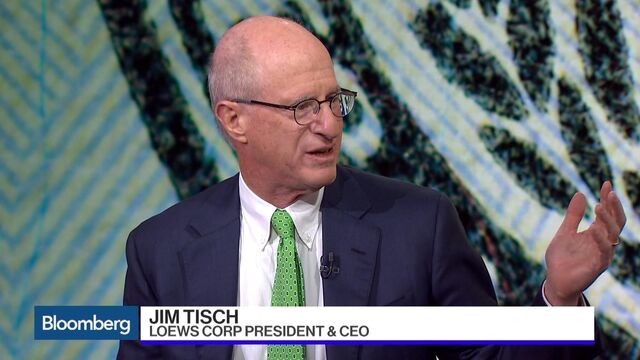 The Federal Open Market Committee has opted not to raise rates at all five meetings this year, and Fed Governor Lael Brainard said this week that there's no reason to rush right now. The FOMC, which meets on Sept. 20-21, raised its target for the federal funds rate to a range of 0.25 percent to 0.5 percent in December, after keeping the benchmark near zero for seven years.
CNA Financial Corp., which is majority owned by Loews, is among insurers pressured by low interest rates. The company's investment portfolio of more than $45 billion is mostly in bonds. Tisch lamented the scarcity of attractive options in fixed-income markets with 10-year Treasuries offering a yield of about 1.7 percent, less than half the average for the past 20 years.
'So Picked Over'

"That's causing, in my opinion, all manner of problems in the investing world," Tisch said.
"Everything is so picked over that it's really difficult," he added. "Everybody knows that in the long term those securities are going to trade at a loss, and you've just got to invest. So you try to keep your portfolio as short as you dare to do, and you wait."
Brainard said Monday that labor-market slack seems to persist. America's service industries expanded in August at the weakest pace in six years, according to data from the Institute for Supply Management, and a measure of manufacturing showed activity contracted for the first time in six months.
Tisch said while the Fed was right to act decisively in the financial crisis, central bankers should have acted sooner to move away from near-zero interest rates.
"If they think it's the solution, then the question is, 'Why hasn't it worked in the past seven years?"' Tisch said.
Before it's here, it's on the Bloomberg Terminal.
LEARN MORE