Startup Stock Ownership Bill Gains Momentum in U.S. Congress
By and
Measure allows delay in payments on taxes on stock options

Bipartisan backers include Ways and Means Chairman Kevin Brady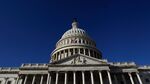 A bipartisan bill to allow new employees at startup companies to defer paying taxes on their stock options "is a good thing" that the U.S. House should pass when it comes to the floor next week, Ways and Means Committee Chairman Kevin Brady said Wednesday.
The bill was approved Wednesday afternoon by Brady's panel by a voice vote, and the measure will get a vote on the House floor next week, Majority Leader Kevin McCarthy of California said Wednesday afternoon.
"It does have bipartisan support," Brady said in an interview.
In the Senate, an identical version of the bill -- co-sponsored by Mark Warner, a Virginia Democrat, and Dean Heller, a Nevada Republican -- could be taken up by the Finance Committee next week, according to Warner spokeswoman Rachel Cohen.
Still, even some supporters are raising late questions about the measure, H.R. 5719. 
High Costs
Democratic Caucus vice chairman Joe Crowley of New York -- a House co-sponsor along with Republican Erik Paulsen of Minnesota and fellow Democrat Anna Eshoo of California -- says he is now worried about the higher-than-expected costs of the bill, which would stem from lost or delayed revenue.
The legislation would reduce federal revenue by more than $1.3 billion over the next decade, according to an estimate by the Joint Committee on Taxation. Crowley says that he's now looking to find cuts to offset that lost revenue.
"I know I'm a co-sponsor, but this is something I think we need to look at," Crowley said in an interview. He wouldn't say whether he and his Democratic colleagues would reverse their stance on the bill if lawmakers can't agree on offsetting cuts.
Brady responded that he wasn't as worried about the cost. "I don't see a need to raise taxes on other Americans to create some type of fairness" for employees of startups, he said.
Encouraging Hiring
Brady and others who back the House bill say it's an important way to promote interest among talented people in joining startup companies, or even owning them.
"This legislation provides startup employees with the ability to accept equity options without being burdened with tax liabilities many employees will be unable to pay until the company goes public or they have substantial cash reserves," McCarthy said in a statement. "Providing flexible policy options to encourage economic growth is the type of creative thinking needed for America to continue to lead in the 21st century."
The bill is designed to allow employees of startups to defer the taxes on their stock options until they're likely to have the funds necessary to make their payments.
"The more we can do in this economy, the more of this we can do to help these startups and actually create more employee ownership of businesses, is a good thing," said Brady.
— With assistance by Ariel Nerbovig
Before it's here, it's on the Bloomberg Terminal.
LEARN MORE