Same-Sex Marriage Vote in Australia Set to Stall Amid Stalemate
by
Turnbull is seeking a public ballot on marriage equality

Labor opposition says plebiscite will lead to persecution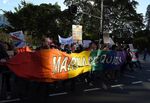 A campaign to allow same-sex marriage in Australia looks set to stall as political parties squabble over whether to give voters a say on the matter.
The government introduced legislation Wednesday for a public vote on marriage equality, making good on its election pledge. Opinion polls show a majority of Australians back same-sex marriage, and Prime Minister Malcolm Turnbull says parliament would respect the outcome of the vote.
Yet the main opposition Labor party, while supporting marriage equality, is opposed to the public vote -- saying it would be divisive and could lead to persecution of gay people. Labor leader Bill Shorten has indicated he will block the so-called plebiscite in the upper house -- where the government lacks a majority -- potentially scuppering any chances of marriage equality for another three years.
"We can have marriage equality within a matter of months," Attorney-General George Brandis told Australian Broadcasting Corp. radio on Wednesday. "This is so close now you can touch it and instead" the Labor party is playing political games, he said.
Australia has become increasingly isolated among English-speaking nations on the issue, with the U.S. and Ireland last year joining countries including U.K. and New Zealand in legalizing same-sex marriage. While Turnbull, 61, supports marriage equality, many lawmakers in his Liberal-National coalition are opposed and previous efforts to pass such bills in parliament have failed.
Abbott Legacy
Turnbull inherited the position of allowing a plebiscite from conservative predecessor Tony Abbott, whom he defeated in a ballot of Liberal Party lawmakers a year ago today. The Prime Minister took the policy to the July 2 election, which the coalition won with a one-seat majority in the lower house.
Should the plebiscite legislation be passed, the public vote would be held Feb. 11. The "yes" and "no" campaigners would be granted A$7.5 million ($5.6 million) each to promote their causes. The cost of holding the vote has been estimated at A$160 million, at a time when Turnbull is attempting to focus on reining in a budget deficit that's threatening the nation's AAA rating.
Supporters of same-sex marriage have criticized the plebiscite plan, saying it would be divisive, a waste of money and wouldn't be binding on lawmakers anyway. Some conservative members of Turnbull's coalition who oppose marriage equality, including Senator Cory Bernardi, have said they wouldn't respect a "yes" vote. Bernardi has previously stated that allowing same-sex marriage could lead to bestiality becoming legalized.
Free Vote
Shorten, 49, says Turnbull's refusal to allow a free vote in parliament on marriage equality shows he's hostage to right-wing conservatives in the coalition.
"At every turn, on every issue, the prime minister has allowed himself to be bullied by the right-wingers on his backbench," Shorten told parliament on Tuesday. "If he was actually in charge of his party he would not be having this plebiscite."
Dean Smith, a gay Liberal lawmaker, said in a Fairfax Media interview on Tuesday that a plebiscite would be "abhorrent" and he wouldn't support it. He said it was up to elected lawmakers to vote for a law change through regular parliamentary processes.
Turnbull hasn't outlined what will happen if the plebiscite is blocked. An ongoing stalemate could see the issue unresolved during the current three-year term of parliament.
There were about 34,000 same-sex couples in Australia in 2011, government figures show. Australia's largest city Sydney, which has hosted the Gay and Lesbian Mardi Gras since 1978, is regarded as the San Francisco of the South Pacific.
A Fairfax/Ipsos poll of 1,403 voters conducted in June 2015 showed 68 percent of voters support gay marriage, with 25 percent opposed.
Before it's here, it's on the Bloomberg Terminal.
LEARN MORE