business
Russians Marvel at Anti-Corruption Cop's $131 Million Cash Pile
By and
Interior Ministry colonel held in graft investigation

300 million euros also found in Swiss accounts, agency reports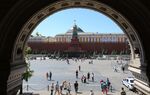 This probably wasn't the kind of publicity for Russia's campaign against corruption that the Kremlin might have wished for.
Russia's Investigative Committee posted a picture of stacks of bills inside a safe after it seized 8.5 billion rubles ($131 million) in cash from a Moscow apartment. It said the money came from an apartment of Dmitry Zakharchenko, a police colonel who heads an anti-corruption unit within the Interior Ministry, providing an eye-opening example for Russians of the scale of alleged graft within the government system.
The Rosbalt news service reported that another 300 million euros ($337 million) was found in Swiss bank accounts belonging to Zakharchenko's father, citing a person in law enforcement that it didn't identify. Zakharchenko is charged with abuse of office and the probe involves only the seized 8.5 billion rubles "at the moment," the Investigative Committee said in a statement Wednesday. His lawyer, Yuri Novikov, said he knows nothing about any Swiss accounts, according to the RIA Novosti news service.
President Vladimir Putin in April endorsed a national anti-corruption plan for 2016-2017 that requires government bodies to "achieve tangible results in preventing" graft. Russian officials have announced several high-profile cases, signaling a renewed determination to crack down on crooked officials as the economy struggles through a second year of recession, its longest in two decades. The scale of the allegations against Zakharchenko and the fact that his job was to root out corruption have given his arrest greater resonance than other investigations this year that have targeted the former head of the customs service, several regional governors and prominent businessmen.
Resignations Demand
"It shocks, but doesn't surprise," Elena Panfilova, head of Transparency International's Moscow office, said by phone. "Even if Zakharchenko ranked in a shadow Forbes top list he wouldn't be at the head of it, except as the richest guy who has been caught."
The unprecedented size of the cash haul drew condemnation from opposition activists in Russia, which ranks below Mozambique in Transparency International's annual Corruption Perceptions index. Opposition leader Alexei Navalny, who heads the Anti-Corruption Foundation, a non-governmental organization set up to expose official graft, said on his blog that the entire leadership of the Interior Ministry "should be removed from office" over the allegations.
The investigation into Interior Ministry corruption is in its early stages and there is no talk of forcing Interior Minister Vladimir Kolokoltsev to resign, Kremlin spokesman Dmitry Peskov told reporters on a conference call Wednesday.
Officials Arrested
Several officials have been targeted in probes, including old allies of the president. Evgeny Dod, the former head of RusHydro PJSC, was detained in June and Federal Customs Service chief Andrey Belyaninov resigned the following month after a search of his home yielded more than $800,000 in cash, according to the Tass news service.
The former governors of the Sakhalin, Kirov and Komi regions are all in jail awaiting trial on corruption charges. Two executives that work at companies belonging to billionaire Viktor Vekselberg were detained this month in relation to the Komi case, while Mikhail Slobodin resigned as chief executive officer of Vimpelcom Russia after he was linked to the investigation.
Graft in Russia encompasses "those who protect kiosks that sell beer and those who facilitate transactions with offshore companies," Vladimir Rimsky, a corruption expert at the Indem research group in Moscow, said by phone. "Everyone needs people who can provide security."
Before it's here, it's on the Bloomberg Terminal.
LEARN MORE