McCaul Says He 'Misspoke' and RNC Wasn't Hacked, CNN Reports
By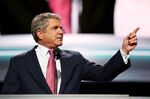 Representative Michael McCaul said he "misspoke" when he told CNN that Russian hackers have breached computer systems at the Republican National Committee.
Moments after McCaul's initial statement on Wednesday, RNC spokesman Sean Spicer said on Twitter that there has been no known breach of the party's networks.
In his first remarks, McCaul said "the Russians have basically hacked into both parties at the national level." McCaul later walked back his claims about the RNC but told the network that some Republican operatives had been hacked.
Russian officials have repeatedly denied any involvement in U.S. hacking.