markets
Michel Bergerac, Who Fought Perelman Over Revlon, Dies at 84
By
He succeeded founder Charles Revson as chairman and CEO

Battle for Revlon produced one of the signature deals of 1980s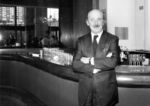 Michel C. Bergerac, who led Revlon Inc.'s diversification into health care and lost control of the cosmetics maker in a three-month battle with investor Ronald Perelman, has died. He was 84.
He died Sunday at New York-Presbyterian Hospital, his wife, Alice Bergerac, said in a telephone interview. The cause was respiratory failure resulting from coronary heart disease and hypertension.
Bergerac served as New York-based Revlon's chairman and chief executive officer for a decade after company founder Charles Revson died in 1975. He resigned from the company in November 1985 at the end of a bitter hostile takeover by Perelman's Pantry Pride Inc. Perelman paid $1.8 billion, or $58 a share, for Revlon's stock, after initially offering $42 a share, according to accounts in the New York Times.
The takeover battle produced one of the signature deals of the 1980s, financed with $1.5 billion in junk bonds underwritten by Drexel Burnham Lambert Inc. Advisory fees to the investment bankers and lawyers involved exceeded $100 million, setting a record payday for Wall Street's mergers and acquisitions specialists, the Wall Street Journal reported at the time.
"We have accomplished our goal," Bergerac said after the transaction, according to the Times. "Our diversification program over the last 10 years pursuing major acquisitions in the health-care industry has been successful. We bought companies at the right prices and we built their values. Once the sale of Revlon became inevitable, we obtained maximum value for shareholders."
Bergerac walked away from the deal with about $35 million in severance compensation, including stock and stock options, the Times reported.
Other Participants
The fight over Revlon also pitted Perelman against Forstmann Little & Co., Theodore J. Forstmann's investment firm, which had an agreement with Revlon to buy two divisions if another bidder took control of the company. The acquisition proceeded after the Delaware Supreme Court voided the agreement. Investment banker Felix Rohatyn of Lazard Freres and M&A lawyer Martin Lipton of Wachtell, Lipton, Rosen & Katz, also advised on the deal, the Journal said.
Michel Christian Bergerac was born Feb. 13, 1932, in Biarritz, France, to Charles and Alice Bergerac, his wife said. His father was an executive at a local electric utility and his mother was a home maker.
Bergerac received a bachelor's degree and a master's in economics from the University of Paris in 1953. He attended the University of California at Los Angeles on a Fulbright scholarship, and earned an MBA in 1955.
Bergerac was an executive with the Cannon Electric Co. in Los Angeles starting in 1957. Cannon was acquired by International Telephone & Telegraph Corp. in 1963, and Bergerac was dispatched to Belgium to work at ITT Europe Inc. three years later.
Noteworthy Contract
"He was regarded by Wall Street analysts as one of ITT's most promising executives," the Journal reported in 1974, when he resigned to become Revlon's president. His $5 million contract, including a $1.5 million signing bonus and stock options that were soon valued at more than $2 million, prompted the Times in 1975 to call him "the Catfish Hunter of American business," a reference to the New Yankees pitcher.
"Bergerac is the first big corporate bonus baby," Pearl Meyer, executive director at Handy Associates, an executive compensation and search firm, said, according to the Times. He was the highest-paid U.S. executive, according to People magazine.
After leaving Revlon in 1985, Bergerac was chairman of M.C. Bergerac & Co., a private investment company. He also served on several corporate boards.
Bergerac enjoyed hunting big game in Africa, and his home in Biarritz was decorated with trophies including antelope, leopards and elephant tusks. He also like to go bird shooting in New York State.
He and his wife, the former Alice Baer, were married 20 years.
Before it's here, it's on the Bloomberg Terminal.
LEARN MORE