technology
Merkel Takes Aim at Populist 'Lies' Spread Through Social Media
By
German chancellor says she'll push to reach disaffected voters

Comments ahead of state election in Berlin on Sunday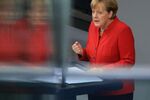 German Chancellor Angela Merkel said policy makers need to counter populist "lies" spread on social media and that voters who support the anti-immigration Alternative for Germany don't reflect majority opinion.
"Right now it's hard to reach some people with reasoning and still we have to keep trying again and again," Merkel said in an interview with Berlin-based RBB Inforadio broadcast Thursday. "I believe that we shouldn't give up on people who are now casting a protest vote, but rather keep courting them with our policies."
Three days before voters in Berlin elect a new city council, the comments were Merkel's latest signal that she's sticking to her course on refugee policy as Alternative for Germany, or AfD, captures voters from established parties in state elections across the nation. Polls put the AfD's support in the capital at 14 percent ahead of Sunday's ballot.
Faced with a domestic and European backlash against her open-border policy for asylum seekers, Merkel said finding jobs for refugees who want to stay in Germany will take time. She acknowledged a "need for discussion" within her government amid strife in her coalition over her refusal to set an immigration cap.
Several dozen protesters jeered and held up signs calling for Merkel to quit as she urged voters to reject populism in a campaign speech for her Christian Democratic Union in Berlin on Wednesday. She repeated that message in the radio interview, saying that while people's fears need to be taken seriously, her job is "to bring about solutions to problems."
"We really can't give them any opportunity to spread their lies" on social media, she said.
'Not Majority'
Merkel's party was beaten into third place by the AfD for the first time in a state election on Sept. 4 in the eastern region of Mecklenburg-Western Pomerania, where the party took almost 21 percent of the vote. Polls suggest declining support for both the capital's governing Social Democrats and the CDU, the junior partner, possibly bumping Merkel's party out of the city government in Berlin, which also is a federal state.
Merkel sought to put support for the AfD in Mecklenburg-Western Pomerania in perspective, saying the result reflected a voter turnout of about 60 percent. "That's not nice, but it's not a majority of the population," she told Inforadio. Polls suggest the party might win as much as 15 percent of the nationwide vote if elections were held now.
After about 1 million asylum seekers entered Germany last year, the government expects that number to fall to 300,000 in 2016. Merkel told the campaign rally that migrants whose asylum bids are rejected must be deported from Germany.
"That's not an evil thing, it's rather defending the state of law," she said.
Before it's here, it's on the Bloomberg Terminal.
LEARN MORE