markets
Kremlin Media Mouthpieces Speak Volumes on Putin's U.S. Pick
By
Pro-Putin presenter airs conspiracy theory on Trump's murder

Russia sees Republican as 'American Gorbachev,' analyst says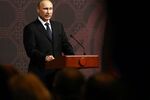 While President Vladimir Putin says he'll work with whoever wins the U.S. presidential election, Russia's state-dominated media make no bones about which candidate they believe is in Moscow's best interest.
The preference is so pronounced that the Kremlin's chief propagandist, Dmitry Kiselyov, told viewers of his nationally televised program this week that the American political elite may kill Donald Trump rather than allow him to improve ties with Russia as president. Other outlets have seized on the Republican candidate's declarations that he'll seek good relations with Putin and may even recognize Russia's 2014 annexation of Crimea that prompted international sanctions.
"There are two strains in the dominant media narrative: it argues that Trump will be a friend to Russia, and perhaps hopes that he'll be the American Gorbachev who will bring down the superpower," Alexei Makarkin, an analyst at the Center for Political Technologies in Moscow, said by phone, referring to Mikhail Gorbachev, whom many Russians accuse of causing the collapse of the Soviet Union. "They all agree that Hillary Clinton is a big threat."
The Kremlin's control over Russian media has helped keep Putin's approval rating above 80 percent during the country's longest recession in two decades, which pushed millions into poverty. Kiselyov, a recipient of Russia's highest civilian honor who's been sanctioned by the European Union, is at the center of what the chairman of the U.S. House of Representatives Foreign Affairs Committee, Rep. Ed Royce, last year said was a "weaponization of information" by the Putin regime to show that "western democracy is morally corrupt."
'Shock Tactics'
The U.S. presidential race remains in the spotlight even as Russians prepare to vote in parliamentary elections on Sept. 18. Russian outlets are quick to see conspiracies in U.S. politics and tend to ignore accusations of meddling in the campaign that could paint Russia in a bad light, according to Makarkin. The reports generally contrast American electioneering unfavorably with Putin's leadership.
The competing U.S. campaigns are using Putin and the "Russia card" as "decisive" issues with voters, Kremlin spokesman Dmitry Peskov told reporters on a conference call Wednesday. It amounts to "crude Russophobia," Peskov said, responding to a question on President Barack Obama's criticism that Trump considers Putin a "role model."
Putin himself accused Trump and Clinton of "using shock tactics, just each in their own way," in a Sept. 1 interview, during which he also brushed off accusations that his government was involved in hacking thousands of e-mails and documents from the Democratic National Committee. "I don't think they are setting the best example," he said of the candidates.
'Government Propaganda'
The EU put Kiselyov on its blacklist in 2014 as a "central figure of the government propaganda supporting the deployment of Russian forces in Ukraine."
The anchor -- who has called for journalism to be practiced "with a position" -- said that Trump wears a bulletproof vest in public, though he offered no supporting evidence in Sunday's report. The 15-minute segment also examined concerns over Clinton's health and recounted U.S. presidential assassinations and attempted killings from Abraham Lincoln through John F. Kennedy and Ronald Reagan to Bill Clinton and George W. Bush.
"The fact remains a fact: the first attempt to kill Trump has already happened," Kiselyov said, referring to a mentally-ill British man who allegedly tried to steal a police officer's weapon at a campaign rally in Las Vegas in June.
Radioactive Dust
Kiselyov's job is "to provide propaganda with a thick coat of sugar," and one of the Russian media's key goals is "to paint the entire world as run by a ruthless elite," Mark Galeotti, senior research fellow at the Institute of International Relations in Prague, said by phone.
The presenter is known for making provocative statements critical of the U.S. He bragged in 2014 that Russia is the only country capable of turning the U.S. to radioactive dust and has also called for the internal organs of deceased gay people to be burned rather than used for transplants. 
Other media have taken aim at Clinton, who's seen in Russia as being more confrontational if she's elected president in November. The Komsomolskaya Pravda tabloid ran an article last month spotlighting five people it said were opponents of Clinton's who've met mysterious deaths. State media was also quick to pounce on the Democratic candidate's health issues, with the flagship television station showing her stumbling as she left a Sept. 11 commemoration ceremony and reporting on theories about her, from having a body double to the possibility of poisoning.
Nationalist politician Vladimir Zhirinovsky and pop singer Philipp Kirkorov have also endorsed Trump in Russian media interviews. Zhirinovsky claimed his personal website was hacked after he came out in favor of the Republican candidate.
Kiselyov's commentary is "memorable in the west because it is so extraordinarily out of joint with how a news anchor, let alone a news executive, should behave," Galeotti said. "Russians don't bat an eye at him."
(
Updates with Kremlin comment in sixth paragraph.
)
Before it's here, it's on the Bloomberg Terminal.
LEARN MORE