Juncker Calls for EU Resolve as Bloc Braces for Brexit Talks
By
European Commission chief outlines range of policy initiatives

His state of the union speech sounds the alarm over populism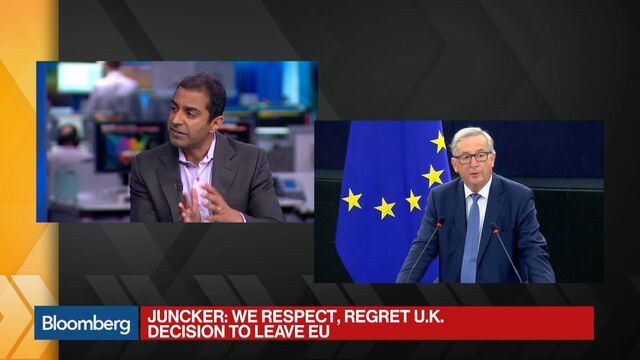 The European Union's Jean-Claude Juncker pledged new policy initiatives from defense research to a volunteer corps in a bid to shore up the bloc after the U.K.'s unprecedented vote to leave.
Juncker, president of the European Commission, the 28-nation EU's executive arm, used an annual "state of the union" speech to highlight the importance of the next 12 months in defining Europe's role after the Brexit decision. Warning about the dangers of anti-establishment forces, he said the EU is as relevant now as it was in the 1950s when the project was begun.

"I am calling on us to have resolve," Juncker told the European Parliament on Wednesday in Strasbourg, France. "There are splits out there and often fragmentation exists where we need further effort from the union. And that is leaving scope for galloping populism and we cannot accept that because populism does not solve problems. On the contrary, populism creates problems."
In a bid to contain centrifugal political forces that the Brexit vote both resulted from and risks stoking, the EU is scrambling to show voters that European initiatives can bring tangible benefits.
Economic Benefits
The EU has a window to act as the U.K. gears up to trigger the Brexit negotiations, Turkey upholds an agreement to keep out Mideast refugees and European Central Bank monetary easing helps prevent a renewed euro-area financial crisis.
The goal is to identify policy areas where Brexit could facilitate new EU initiatives because it will mean no more resistance from the U.K., which has been a longstanding opponent of supranational expansion. Leaders of all EU nations except the U.K. will brainstorm about the bloc's future without Britain at a Sept. 16 meeting in Bratislava, Slovakia.
An underlying risk is disagreement across the EU over the lessons of the Brexit vote in June, with actors falling broadly into two camps. One camp argues for a more integrated EU, saying crises in Europe stem from the limits of national policy-making. The other camp asserts that the EU has over-extended itself and must rein in its ambitions, leaving more leeway for member countries to go their own way.
John Hardy, head of foreign-exchange strategy at Saxo Bank A/S in Denmark, said the ultimate fate of Juncker's initiatives lies with national capitals.
"It's about the governments showing a commitment to Europe," Hardy said in a Bloomberg Television interview. "There are a lot of political risks on that path, especially populist risk, as we're seeing from Brexit."
Investment Fund
Juncker proposed to double the duration and financial capacity of a 315 billion-euro ($354 billion) infrastructure investment fund that he established after taking office in 2014. The program seeks to leverage base capital of 16 billion euros in EU guarantees and 5 billion euros in European Investment Bank funding.
The program has generated 116 billion euros in investments across Europe to date and the goal is to reach 500 billion euros by 2020 and 630 billion euros by 2022, Juncker said.
He also announced a plan to propose by year-end a European Defense Fund for research, saying weapons makers in Europe need to boost innovation.
In that context, Juncker urged EU countries to make use of a European treaty provision allowing them to pool defense capabilities in the form of a "permanent structured cooperation" and expressed hope that the Sept. 16 Bratislava summit "will be the first, political step in that direction."
Military Headquarters
He revived an idea for a European military headquarters and recommended a push toward "common military assets, in some cases owned by the EU" that would work in "full complementarity" with the North Atlantic Treaty Organization.
"We have to take responsibility for protecting our interests and the European way of life," Juncker said.
Furthermore, Juncker pledged to propose a "European Solidarity Corps" in which young people could volunteer their help in crises such as earthquakes, floods and refugee inflows.
"I want this European Solidarity Corps up and running by the end of the year and, by 2020, to see the first 100,000 young European taking part," he said.
Beyond touting the merits of future EU action, Juncker listed a range of European policies from trade to agriculture that he said have served governments, businesses and citizens across Europe. The political problem, he said, is that the economic benefits of such initiatives are often "invisible" to voters.
Juncker offered an olive branch to EU-skeptical governments such as Hungary after they deepened EU rifts by opposing his push for mandatory refugee quotas. He stressed a need to do away with old divisions and said that solidarity on refugees "must be voluntary."
Juncker reiterated a call on the U.K. government to trigger the Brexit talks "as quickly as possible" and repeated a warning that Britain can't expect unlimited access to the EU single market without accepting the bloc's fundamental principle of free movement of people.
He said EU "friends and partners worldwide who all deeply regret Brexit" needn't fret about the bloc's future without Britain.
"They are wondering whether Brexit is the beginning of the breakdown and disintegration process for the European Union," Juncker said. "The European Union as such is not at risk" and "the next 12 months are the crucial time to deliver a better Europe."
— With assistance by Anna Edwards, Ben Sills, and Manus Cranny
Before it's here, it's on the Bloomberg Terminal.
LEARN MORE