If U.K. Scraps Hinkley, These Reactors May Still Be Built
By and
NuGen, Horizon say they will push ahead with nuclear projects

Government to decide whether to approve Hinkley this month
Even if the U.K. government decides to scrap an 18-billion pound ($24 billion) reactor in Somerset it wouldn't sound the death knell for the country's plan to build a generation of new nuclear plants that could help curb pollution and keep the country's lights on.
While Prime Minister Theresa May is deciding whether to proceed with Electricite de France SA's 3.2-gigawatt Hinkley Point C in southwestern England, developers of at least three other new nuclear stations say they are pushing ahead with their plans.

The U.K. government is hoping to see 18 gigawatts of new nuclear capacity built at six sites, including Hinkley, over the coming decades to fill the energy gap that will be left when aging fossil fuel and existing atomic plants retire from service. This pipeline of new reactors could deliver about a third of the country's power needs in the 2030s, drive about 80 billion pounds of investment and help the energy industry limit greenhouse gas pollution.
"It's going to be difficult decarbonize by 2030 without new nuclear," Daniel Russo, an analyst at Oxford-based Aurora Energy Research Ltd., said by phone. "One of the best arguments for new nuclear to continue even if Hinkley falls over is that it's good for climate strategy."

The prospects of Hinkley Point going ahead have diminished since May replaced David Cameron as prime minister in July. Hours after EDF gave the project a green light, May's government said it needed time to reconsider. 
Energy Minister Greg Clark told lawmakers on Tuesday that a decision will be made in September, while ITV News reported a positive decision could come as early as this week. EDF declined to comment. An official at May's office in Downing Street said on Wednesday that the prime minister hasn't yet made a decision on the matter. 
A decision against Hinkley could halt investment in a further two plants that EDF is planning to build with China General Nuclear Power Corp., as well as Hinkley, said Elchin Mammadov, analyst for Bloomberg Intelligence. The two companies signed a deal in October to build a plant at Sizewell and another at Bradwell, which may use Chinese nuclear technology.
"The Chinese-backed reactors will be the only nuclear projects unlikely to go ahead if Hinkley Point is scrapped," he said.
Government Decision
May must balance security concerns about a Chinese company owning part of an crucial industry against the U.K.'s need for investment to keep electricity flowing. Complicating that is growing unease about the cost of the project, and rival generators are arguing they can provide a cheaper and cleaner alternative.
Yet even with those three EDF plants shelved, another 12.2 gigawatts of new nuclear may still be installed over the coming decades, and could even be helped by the cancellation of Hinkley as demand for new power supplies grows.
"There is a universe of options open to us," said John McNamara, a spokesman for NuGeneration Ltd., a group of companies planning to build the 3.8-gigawatt Moorside plant in Cumbria. He wouldn't comment directly on a report in the Financial Times that Korea Electric Power Corp. is interested in joining the project.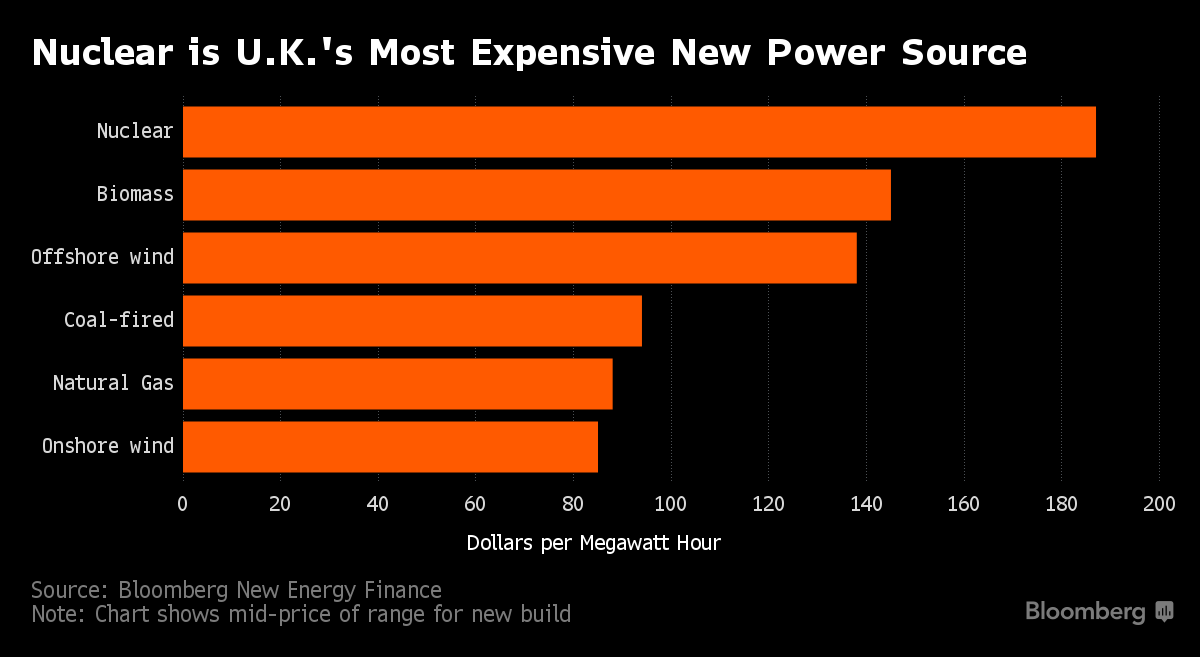 "We are talking to potential investors familiar with the nuclear industry, including banks, credit-export agencies and nuclear companies in countries interested in nuclear new build projects," he said in by e-mail.
Horizon Nuclear Power Ltd. is planning to build two new plants at the Wylfa Newydd site in north Wales and Oldbury in South Gloucestershire, with a combined capacity of 5.4 gigawatts. A spokeswoman said both plants would be unaffected by a negative decision on Hinkley. 
"Each of the components of our project -- reactor design, commercial model, investor, our future deal with government -- are unique to us," the spokeswoman said in an e-mailed statement. "We are confident our project will succeed based on its own individual merits."
Russo at Aurora said that from a technology perspective, "any economic case for nuclear would still stand even if Hinkley is canceled. Horizon and Nugen technologies have more international experience and so have a decent chance of still going ahead."
Significantly, those two companies are planning to use different designs than Hinkley. EDF's European Pressurized Reactor has run into trouble at Flamanville in France, where costs have more than tripled to 10.5 billion euros ($11.8 billion) and construction is six years behind schedule.
Hinkley would meet 7 percent of Britain's power needs and the government will need the rest of the new build projects to go ahead to fill the gap that may be left, according to James Basden, partner at Oliver Wyman Ltd. in London.