business
Next Time Your Boss Sets a Crazy Sales Goal, Show Him This
The Wells Fargo bank account scandal is just the tip of a very old iceberg.
By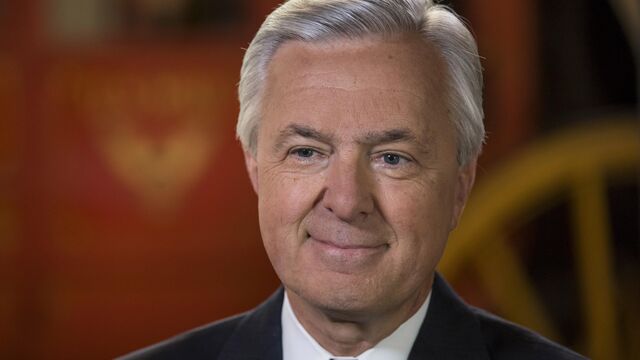 The rigid, relentless sales goals that prompted Wells Fargo & Co. employees to open more than 2 million unauthorized customer accounts are on their way out, the company said yesterday. The day before, Moody's Investors Service said the bank had encouraged "pervasive inappropriate practices," and that managers didn't provide sufficient oversight.

Wells Fargo's predicament was by no means novel. It was simply the latest in a long string of companies and even federal agencies that have seen the incentivizing of employee performance go terribly awry. "Indiscriminate goal-setting" can lead to increased unethical behavior, "distorted risk preferences," and "corrosion of organizational culture," the authors of a Harvard Business School paper, "Goals Gone Wild: The Systematic Side Effects of Overprescribing Goal-Setting," have argued. Their work continues to be required reading for managers everywhere, since the scandal at Wells Fargo is of a type that keeps happening.
The reason may be that coming up with incentives and quotas that don't tempt greedy consequences remains tricky. "Companies tend to forget that an incentive to perform is identical to an incentive to cheat" when coupled with lax controls, unrealistic quotas, or a weak ethical culture, says Marc Hodak, an adjunct professor of business ethics at NYU's Stern School of Business and managing director of Hodak Value Advisors. 
"Every large organization in the world has got these land mines of perverse incentives," said Hodak. "It's just a matter of degree to which of these things are allowed to run amok" because of those three factors. Barry Schwartz, an emeritus professor of psychology at Swarthmore College, goes farther: "Incentives poison people's will to do the right thing. It's the worst way to get people to do the things you want to do." 

Wells Fargo Chief Executive Officer John Stumpf said yesterday "there was no incentive to do bad things." He added that he and other top management felt "accountable," and that the scandal was a situation where some employees didn't hew to the company's culture. 

The behavior at Wells Fargo allegedly grew over the years as salespeople were urged to sell more of its products to existing customers, or "cross-sell." In order to earn bonuses and meet daily sales quotas—which the City of Los Angeles said in a complaint last year were "discussed by Wells Fargo's District Managers four times a day"—employees opened more than 2 million accounts for customers without their knowledge (PDF). The sham accounts allegedly resulted in consumers paying fees of about $2.4 million between May 2011 and July 2015.
Wells Fargo agreed to resolve allegations by the U.S. Consumer Financial Protection Bureau and other government investigators without admitting or denying wrongdoing. It will pay $185 million in fines and reimburse about $2.6 million to cover fees that may have been improperly charged. The bank has said it already told call center workers to pause in cross-selling its financial products, and starting Jan. 1, the sales goals for its consumer bankers will be eliminated.
That scandal adds Wells Fargo to a slow motion parade of companies laid low over the years by incidents where pressure to produce led to allegations of unethical or illegal behavior (or both). But how does a company accomplish that laudable goal of maximizing sales without rewarding bad behavior? Below is a small rogue's gallery of such goals run amok—and an example of one company that managed to meet an audacious goal without employees turning to the dark side.
Sears, Roebuck & Co.: A push to sell parts 
What happened: Back in the early '90s, Sears switched the compensation system in its auto centers from an hourly wage to a system that had more upside potential based on commissions and sales quotas. These were set for the number of repairs or services done over eight-hour shifts, along with quotas for selling a certain number of shock-absorbers or struts per hour. Sears employees told investigators that if they failed to meet these goals, they often received a cut in hours or were transferred to other Sears departments. 
In the wake of this program, and a subsequent ad campaign, customers came running for cheap brake jobs. They were often told their car needed parts including calipers, coil springs and shocks repaired or replaced. Customer complaints led the California Department of Consumer Affairs to use undercover agents to investigate. It found that 34 out of 38 times the services recommended were unnecessary, or that customers were billed for work that hadn't been done. 
The resolution: At a 1992 news conference, then-CEO Edward Brennan said mistakes "may have been the result of rigid attention to goals, or they could have been the result of aggressive selling." He also said that, "It seems to me our incentive compensation programs created a wide opportunity for mistakes to be made." Sears distributed about $47 million worth of coupons nationwide and $3.5 million to various California agencies. It also had to give $1.5 million to mechanic training programs at California community colleges.

The company changed compensation to focus more on customer satisfaction, and switched from quotas for specific services and parts to a broader volume quota. It also said it was eliminating bonuses and prizes given to workers with the highest sales numbers.
Bausch & Lomb: An earnings goal 
What happened: The Bausch & Lomb scandal involved a maneuver called "channel stuffing." That's a way to manipulate earnings and reach financial goals that, if attained, can significantly boost an executive's bonus. 
Channel stuffing basically means shipping goods and then booking them as sales without having actually sold them. According to allegations by the Securities and Exchange Commission, as the end of 1993 approached, Bausch & Lomb's contact lens division managers told distributors to buy as much as two years' worth of inventory, at prices at least 50 percent more than had been charged three months earlier, or risk losing their distributorships. The SEC said some distributors were told they could return unsold lenses, though Bausch & Lomb allegedly included the entire sale in its earnings.
The SEC also claimed the contact lens division inflated results by shipping lenses to third-party warehouses after the year ended and including that in sales. Then-associate director of the SEC's enforcement division, Thomas Newkirk, said "If you're going to flog your people to make their numbers, you need to make sure they're not engaging in the kinds of antics that were present here." 
The resolution: In late 1997, the eyewear manufacturer agreed to settle the SEC allegations that it improperly booked sales of contact lenses and sunglasses, and as a result, overstated revenues and earnings in 1993. The company and the executives allegedly involved didn't admit or deny wrongdoing. Bausch & Lomb also settled a shareholder class-action suit related to the alleged overstatement.
VA hospitals: Gaming the wait-list
What happened: A Veterans Affairs hospital in Phoenix was found to have a waiting list that averaged up to 115 days for vets seeking medical help, far higher than it had reported. The VA had set a systemwide performance goal of shortening waits to 14 days for new appointments; the goal was put in employee performance plans. As time went on, the numbers showed that VA hospitals were getting closer to that goal. No one seemed to probe very deeply into how this was being accomplished, however. Turns out the waiting lists were being gamed. In some cases, not every patient was entered onto an electronic waiting list, and in others waiting lists were purged. 
In a 2014 hearing, Representative Jeff Miller, chairman of the House Veterans Affairs Committee,  said "the quest for monetary gain rather than public service has led to data manipulation and secret lists designed to create a false impression of quality health care that is timely and responsive to veterans." In fiscal year 2013, every one of the 470 senior managers at the VA got performance ratings that made them eligible for additional compensation. 
The resolution: The 14-day goal was abandoned and removed from employee performance plans, and another program put in place to try and shorten wait times, among other changes. The head of the VA resigned and a $16.3 billion bill was passed by Congress that included an overhaul of the agency.
And one company that got it's goal right...
Southwest Airlines Co. is often heralded for its strong company culture. Former CEO Herb Kelleher said in a 2013 interview that "having a simple set of values" for a company was "very efficient and expedient." Kelleher explained that, at Southwest, "if somebody makes a proposal and it infringes on those values, you don't study it for two years. You just say, `No, we don't do that. And you go on quickly.'" 
Back when the company was fighting to stay in business, executives figured they'd need 10-minute turnaround times at airport gates to be efficient enough to survive. Most people thought such a big "stretch goal" was impossible—stretch goals were originally popularized by former General Electric Co. CEO Jack Welch. They're supposed to be targets so beyond reach that they force executives to think more creatively (Elon Musk anyone?). They can also be demoralizing, but it worked at Southwest. Executives bought into their mission, and the airline met its goal by using an approach inspired by race-car pit crews. 
Before it's here, it's on the Bloomberg Terminal.
LEARN MORE